Diet Coke is showing Australian women a number of great ways to burn the one calorie they get by consuming two 200 ml serving of the drink (each of them has 0.5 calorie). On the heels of a hugely successful 'Share a Coke' campaign launched in fall to help people reconnect with their friends by personalizing cans and sharing virtual versions of the packaging (it's still running), the Diet Coke brand is rolling out a new promotion entitled 'One Calorie Burnt in a Moment' targeted at women.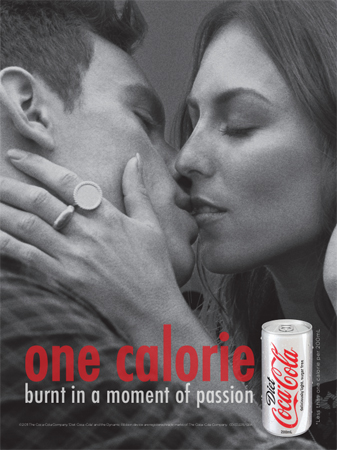 Photo: A print from the Diet Coke's 'One Calorie Burnt in a Moment' campaign
«The campaign is designed to remind women of the Diet Coke low-calorie benefits, communicating its relevance in a healthy, well-rounded lifestyle for all young women,» commented Pamela Wyatt, marketing manager for Diet Coke. The new promotion has been developed specifically for young female consumers in response to massive campaigns of male-oriented products such as Pepsi MAX or Dr Pepper Ten.
The promotion helps ladies to find the best and the most pleasurable way to burn one calorie—and shows how everyday actions help reach this goal. For instance, you can burn one calorie "by wriggling your way into new jeans» or «running for the loo…in heels» or by kissing passionately. The campaign includes magazine prints, digital ads and outdoor elements to show that you really don't have to get worried about the 0.5 calorie you consume by sipping a Diet Coke—it doesn't take much to burn it by doing simple things. Calories go, taste lasts.