Google is getting close at Facebook Events service heels with its newly released Schemer, an activities recommendation engine with Google+ integration. Though the service is an invite-only beta so far but it already has partnered with well-known brands to organize schemes. These brands include Bravo, Entertainment Weekly, Food Network, IGN, LifeHacker, National Geographic, the US Department of the Interior and Zagat.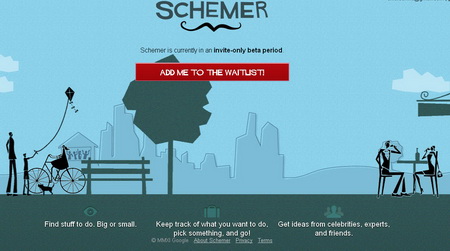 Photo: Schemer is invitation only so far, a snapshot from schemer.com
The platform is designed as Google+'s version of Facebook Events. Users can post activities they'd like to do and search the public suggestions of others. To make it more fun, they can invite their friends to participate in different initiatives.
The service features a simple intuitive design but its not clear yet how it will compete with Facebook Events that already doing it well offering people various events according to quality and timeliness. However, if Google will find a way to do it, Facebook Events will have a serious competitor.
Schemer already has at least one big difference from Facebook Events. Invited users are asked to fill in their locations—they can input the location of their trips and find activities on the places of their destination. Much of the data comes from Google's Zagat, a company famous for its travel guides that Google has recently acquired.
Schemer is to recommend activities based on relevance and users will also see activities their friends are involved in at nearby locations. The 'clever' service will learn and remember what kinds of activities users are more attracted to over time.
Schemer is another great opportunity for brands to bring fans together, collect data on their preferences and promote products. The recommendations are only listed for a few select cities in the US but the service is expected to expand soon.
The promo video is captured in a typical Google's humorous style.