To spice up the holiday season and remind adult consumers that Christmas is a great time to drink and share Guinness, the popular beer brand launches a festive 'two colored' push in the UK. The campaign, which is running under the strapline 'Celebrate this Christmas with a Guinness', is built on the idea that this white season the clack colour (which refers to the iconic black pint of Guinness) is a perfect fit for the festive occasion.
The £2m Christmas push, which revolves around the white and black colours, includes prints, outdoor elements, TV ads, iAd for iPhone and iPad users and applications for Apple and Android devices. The brand launched a 20-second advert for TV, pub TV and digital channels, which shows the process of pouring the black beer into a glass to the famous soundtrack 'I'm dreaming of a white Christmas' before the above mentioned tagline appears.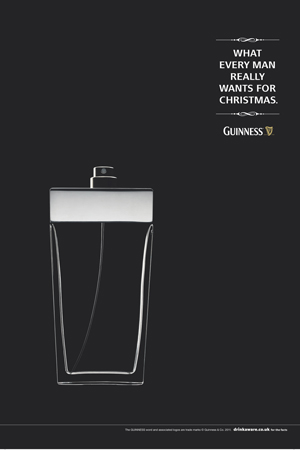 Photo: Guinness poster 'What every man really wants for Christmas'
The brand has also revealed a series of six posters, where a range typical gifts for men this season such as an electric razor, a scarf and an aftershave, look like a pint of Guinness—these visuals can be spotted in London and Birmingham and other locations. In addition to that, specially for digital savvy consumers Guinness released a Christmas iAd for iPhone and iPad devices, providing users with tips on where to go these days (gigs, comedy nights and special pub nights are listed there) and inviting them to play games and a quiz. On the heels of the launch of Starbucks Magic Cap, Guinness also released an application for the owners of Apple and Android-powered devices—using the app, one can scan a pint or can of Guinness, then decorate it in the most festive way and then share it via social media platforms.
"Guinness is synonymous with the Christmas season, whether it is enjoying a can in front of a festive film or a cold pint of draught at Christmas parties. We hope to really tap into all these drinking occasions, particularly amongst male drinkers who make up a significant number of Guinness drinkers. Men are notoriously hard to buy for and often receive gifts they don't really want, when in many instances they would prefer the simple present of a pint of Guinness," commented Nick Britton, senior brand manager Guinness Western Europe.