Microsoft has launched the updated QR Code and Tag reader. The all-in-one app is now designed to interact with NFC (Near Field Communication) technology.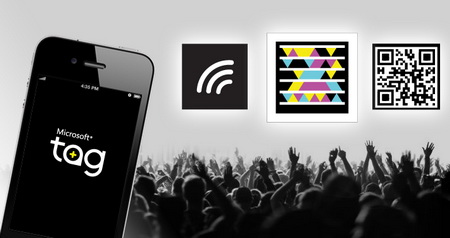 Photo: a snapshot from tag.microsoft.com
The first version was launched 18 months ago could only read Microsoft Tags. But the tech giant listened to the app users' comments as they complained of having to download multiple readers to scan different mobile tags and created a universal app.
With the Tag, Microsoft provides users with an easy access to additional information their favorite products ranging from food to magazines. The app gives another opportunity for brands to connect to their target audience. With a free Tag Manager tool, you can create Tag barcodes, QR Codes, or NFC URLs in less than five minutes, then add them to your marketing materials. Then, people scan your Tag barcode, QR Code, or NFC touchpoint on their smartphones using the free Tag app and following your activities. There is also a special ROI metrics to see how successful the campaign is.
The Tag app works on Windows Phone 7 and 7.5, Windows Mobile, iPhone, Android, BlackBerry, Symbian, and J2ME phones and is to be downloaded here.
"The Microsoft Tag marketing solution gives you and your customers the easy way to use a rich suite of recognition technologies, from QR Codes to the current Tag barcodes and beyond to the next generation in mobile, Near Field Communication (NFC). Depending on your choice, you can create a simple campaign delivering a line of text or a phone number, or go further and help people use your mobile site, see a video, download an app, get contact info, and much more. You don't have to worry about them typing in your URL or finding you online – using Tag instantly puts the relevant info at their fingertips," is explained on the dedicated web site.
Microsoft has also added more entertainment to its Xbox 360 console.