Today's Popsop interview (the last one this year) is with Darren Foley, Managing Director of Pearlfisher studio in London, a packaging design specialist with fresh approach, unique culture and a long list of happy international clients. We asked Darren about how the UK design industry came through the post-recessionary 2011 year, about overseas opportunities and his vision on what's to come in 2012.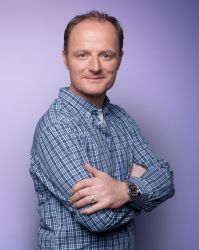 Popsop: As 2011 is coming to an end, how would you summarise the results of Pearlfisher's work this year? What were the biggest challenges and wins.
D.F.: The challenging economic environment has pushed agencies to perform above and beyond the limit of their abilities and this is certainly true for Pearlfisher. With the financial meltdown as a backdrop, we've still seen clients pro-actively invest in design to ensure that consumers retain a deep, meaningful, long-term relationship with the brands in their portfolios. Historically, this is proven as the correct course of action for any brand that wants longevity, we applaud the courage and bravery that our clients have demonstrated and we are proud of what we have achieved in a multitude of markets and categories around the globe.
In terms of wins, we've been fortunate enough to work with some amazing clients this year, both new and existing. We are particularly thrilled to have had the opportunity to nurture the exciting challenger brand Help Remedies in the US and we are very proud of the work we have created for Waitrose LOVE life in the UK, where we redefined the health & well-being category. The year has also allowed us to maximise the various elements of our design offer, including naming and tone of voice, structural design and innovation, as clients have increasingly recognised the value that these disciplines can bring to a brand's repertoire.
Popsop: Speaking about the industry, on the whole, have you seen that 'steady economic recovery throughout 2011, predicted by experts a year ago? To your mind, which sectors of the design business have done better and which had to suffer from tighter budgets and lower demand? Why?
D.F.: There is no doubt that we are in the midst of extremely difficult economic times and we have not seen steady economic recovery. However, it can (and has) been said that times of uncertainty and change are the most exciting because things have to adapt to survive. As mentioned above, I think that brands are still investing in design as clients continue to have an appreciation of how effective design can be for a brand's bottom line.
A powerful brand idea combined with a strong brand identity will continue to be key as the diverse world of marketing channels and the exciting, emerging digital arena continues to grow. Packaging design will continue to be a hugely important area for brands to invest in as consumers look for solutions that consider them as individuals, that enrich their busy and cluttered lives in convenient and desirable ways. There is also a really exciting opportunity for the private label market in retail — especially outside of the UK. Markets like the US are really waking up to the power of design in private label retail.
Popsop: I suppose that you support UKTI and DBA approach to promote UK design for export and expand on overseas markets. Tell us a bit more about your 'exporting' strategy at Pearlfisher. Which overseas markets do you work on? Why them?
D.F.: We want to work with brands that value the power of design and the hugely positive role it plays in driving commercial success. It is important for UK agencies to have an international outlook and to be able to immerse fully into the cultures of their clients' brands. Pearlfisher is currently working with clients in overseas markets including, China, Russia, Lebanon, France and South Korea (amongst others). In our experience these markets certainly value the power of great design and this certainly makes them an exciting place to do business.
Popsop: What does it take to win new business with an international client (is it a different process compared to UK pitches?)
D.F.: It is important to demonstrate a knowledge, understanding and empathy for a client's business no matter if they are based in or outside the UK. Our track record of immersing ourselves into a market and culture has ensured we have delivered effective, creative design solutions in every major market in the world.
Popsop: Looking ahead, where do you think is the strongest overseas market where Britain's design business could succeed the most in 2012?
D.F.: British creativity and design is respected on a worldwide level. However, it is really down to value that the individual client places on design as opposed to the market the client operates in that will be the key to whether a British design business will succeed or not.
Popsop: What's your experience with Russia? Do you have any particular strategy towards CIS in the near future?
D.F.: We have been working in the food and drinks category in Russia since 2008. Our knowledge and expertise of the Russian market and our credentials in the premium and luxury sectors has seen our reputation grow consistently and we will continue to build on this in 2012 and beyond.
Popsop: Please tell us about the Redd's re-design project for SAB Miller. Was it your first complex project with a big Russian company?
D.F.: The repositioning and redesign of REDD's was our first complex project with a big Russian company and we had to demonstrate a clear understanding of the consumer and the market. REDD's is a sweet, fruity bottled beer for women that sits at the top end of Russia's super-premium beer market. It is targeted at stylish women aged between 18 and 25. We worked to strengthen and extend the REDD's brand, developing a style based positioning and justifying its super premium price point through design. It was a brave move by the client to not simply compete on price point, but extend the range, and we had to fully understand the market and mindset of the REDD's consumer. Following the redesign, total volume sales grew 22% year on year, while other super premium brands in the market were falling in sales, REDD's grew its volume by 26% as a direct result of can sales.
Popsop: At Pearlfisher do you have any 'corporate ethical code', defining which brands you work with, what people you hire etc? What type of brand/project you'd refuse to work with?
D.F.: Both through our internal culture and through our working relationships with our clients, we encourage good ethical working practices. We regularly support charity initiatives and our recent work with the Hare Styling campaign for Great Ormond Street Hospital, Orbis, and the Haller Foundation are just a few examples where we've endeavoured to use our creative skills to give something back to some great causes.
Our most positive relationships are with clients who are like-minded, passionate about design and who value design as an investment for their brand and company. We won't work with brands that aren't truthful about what they stand for, or which are willfully damaging life and the environment. We don't agree with free creative pitching and we also think that low-fee pitches are not ideal, because everyone loses, in particular the client. A pitch usually creates a protracted, expensive, beauty parade scenario and rarely an efficient problem solving solution.
Popsop: Do you have any predictions on what will happen in 2012 in the brand and design industry in the UK? Globally? and particularly in the brand identity and packaging sector?
D.F.: We will see progress in the ways brands create holistic packaging solutions where the structure, graphics and identity fit together even more organically. Help Remedies in the US is a great example of this.  The packaging design is progressive in the sense that it transcends the very staid and generic look of the pharma category. It uses graphic design, and structural design to innovate. It also maximises every aspect of its design to get the optimum outcome, e.g. tone of voice, architecture and information design — and on top of all that the packaging materials are environmentally friendly.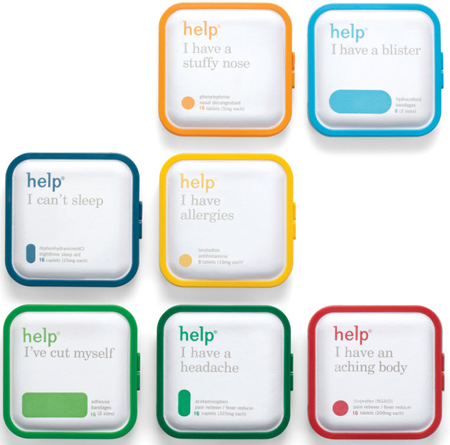 Photo: Help Remedies refreshed packaging
But as the marketing landscape becomes even more diverse and the impact of digital continues to grow, the strength of a powerful, meaningful, effective brand identity is going to become even more important. Brands will need to be built around big ideas — translated effectively and creatively through design — to ensure they remain relevant and meaningful in the future.
As legislation continues to impact the packaging landscape we will need to find ways to help consumers make more intimate, personal connections with brands as they are forced to navigate through a growing sea of messages and information. Again, Help Remedies is a great example of how information design can be delivered to meet mandatory needs but also create impact and emotional consumer desire.
Finally, a continuing future challenge for brands will be to fulfill sales for a mass market whilst targeting new consumers with a need for individual expression and a personal narrative. This will be a fantastic design opportunity and we will see brands and packaging have to react to this challenge moving forward.