The Coca-Cola Company announced multi-million dollar partnership agreements with three leading biotechnology companies to accelerate development of the first commercial solutions for next-generation PlantBottle™ packaging made 100% from plant-based materials.
This effort to commercialize a plastic bottle made entirely from plants builds on the Company's ground-breaking introduction and roll-out of its first generation PlantBottle™ package which was the first ever recyclable PET beverage bottle made partially from plants. Since introduced in 2009, the Company has already distributed more than 10 billion PlantBottle™ packages in 20 countries worldwide.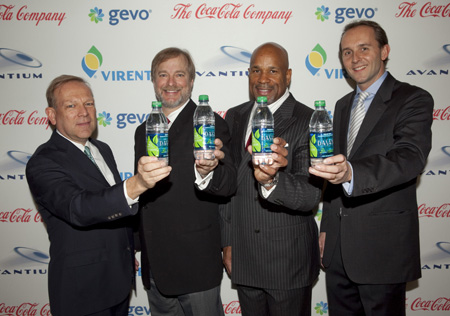 Photo: Rick Frazier, Vice President, Commercial Product Supply, The Coca-Cola Company, left, Lee Edwards, CEO, Virent Inc, Dr. Patrick Gruber, CEO, Gevo Inc, and Tom van Aken, CEO Avantium, right, hold new 100% plant-based bottles
Agreements with Virent, Gevo and Avantium—industry leaders in developing plant-based alternatives to materials traditionally made from fossil fuels and other non-renewable resources—were signed following an in-depth two year analysis of different technologies by The Coca-ColaCompany's R&D team and technical advisory board. Agreements with these three companies will help The Coca-Cola Company support its long-term commitments through sustainable practices in sourcing and packaging supply. While Virent, Gevo and Avantium will follow their own route to make bio-based materials, all materials will be developed in line with Company and industry recycling requirements.
PET made from Virent's bio-based paraxylene features the same high quality and recyclability as materials used today, with the added benefit of being made from a wide range of renewable materials. The company is targeting early 2015 for the opening of its first full-scale commercial plant. The Coca-Cola Company's first generation PlantBottle™ packaging is the only fully recyclable PET bottle made with up to 30% plant-based material available today. PlantBottle™ packaging is made up of two components: MEG (mono-ethylene glycol), which makes up 30% of the PET, and is already made from plant materials, and PTA (purified terephthalic acid), which makes up the other 70%. In this next step, PTA will be replaced with plant-based materials, too.
PlantBottle™ packaging makes a difference by reducing our dependence on nonrenewable fossil fuels and minimizing the carbon impact of PET plastic. It is estimated the use of PlantBottle™ packaging in the first two years alone has helped save the equivalent annual emissions of more than 100,000 metric tons of carbon dioxide. Coca-Cola will continue to make investments in PlantBottle™ technology and aims to use PlantBottle™ packaging for the Company's entire virgin PET supply by 2020.