Vanish NapiSan, the Australian laundry powder promoted their Vanish NapiSan Crystal White as a sponsor of the White House.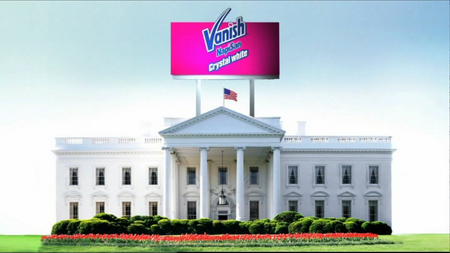 Photo: The Vanish NapiSan Crystal White House Campaign, by Reckitt Benckiser
At first, Vanish wanted to sponsor the White House, Washington DC. To secure naming rights, the company had A$25 million, their entire annual marketing spend. But the campaign to sponsor the White House failed, and Vanish ran a competition to sponsor a suburban white house in Australia.
Vanish NapiSan is a popular in Australia fabric stain removal. The brand's aim was to make their new Vanish NapiSan Crystal White range to be equally famous for keeping white clothes white. Although the brand had previously engaged traditional marketing methods, consumers weren't talking about the new product. To make people talk about the product, the creative team worked hard and developed the following viral strategy.
Reckitt Benckiser Marketing Director, Chris Tedesco, released the White House sponsorship story to Australian media, stating that Vanish NapiSan Crystal White was launching the attempt to sponsor the White House, with a budget of $25 million—the entire annual marketing budget. The company also sent letters to every single member of the US Congress, asking for their support.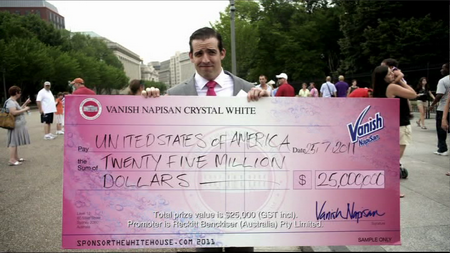 Photo: Adam Whittaker with a 'check', by Reckitt Benckiser
A spokesperson for the campaign, Adam Whittaker became the Vanish Napisan Crystal White brand champion. Adam posted a direct pitch to President Obama on YouTube, offering $25 million to Sponsor the White House. This film gained over 10,000 views.
Then, Vanish appointed a well-known DC lobbying firm, Grayling, to help set-up meetings with influencers/politicians, and they sent spokesperson, Adam Whittaker armed with a giant cheque for $25million, to Washington DC to 'negotiate' the deal. He pitched the deal to everyday Americans, Democrats, Republicans, Congressmen, Senators, and members of the Secret Service. The process was videoed and went to a Sponsor the White House Facebook page, where fans were following and supporting the campaign.
After Obama said no, Vanish decided to Sponsor a simple White House and challenged Aussies to compete for the privilege. The competition was released to the media, and launched in TV and online ads. People posted their entries on Vanish Facebook page. Vanish released featured entries to local press, with the winning entry from Brisbane achieving coverage across the state of Queensland.
The campaign received widespread media coverage including Facebook and reached 11 million people in Australia alone, which is almost half the population. The campaign received a further 140 media items globally, including CNBC, ABC and two live TV interviews on Fox News, each airing to 50 million American homes. Online, the campaign Twitter reach was 620,000+ and our Facebook site received 22,000+ visits. The campaign was produced by Euro RSCG, Sydney and sister PR agency, Red.