The ABSOLUT Vodka portfolio has been extended with a new flavoured variety, ABSOLUT Gräpevine, which comes as another taste experiment of the brand and offers yet more opportunities to bartenders who use the brand's infused vodkas to create their diverse cocktails. The new offering, which combines the original and distinct taste of white grape and papaya, balanced with the sweet notes of dragon fruit, follows a new city-inspired ABSOLUT Vodka edition, the one dedicated to Miami. Both new offerings were launched in bars, nightclubs and retail across the USA on January 1.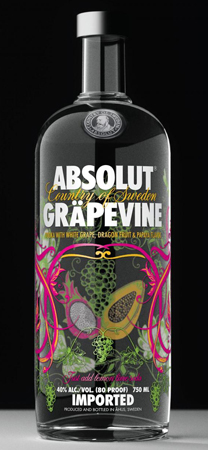 Photo: ABSOLUT Gräpevine, www.theabsolutworld.blogspot.com
"ABSOLUT Gräpevine makes it easy to create exceptional drinks. The combination of white grape, dragon fruit and papaya makes the flavor so multi-dimensional, that you can make a sophisticated drink just by adding one ingredient. Sometimes the simplest drinks are the best," says Maxime Kouchnir, VP Marketing Vodka brands, Pernod Ricard USA. "The versatility and unique taste profile of ABSOLUT Gräpevine also makes it interesting for experienced bartenders. It mixes very well with a range of mixers and brings flair to any cocktail."
The bottle of the new flavoured offering features quite a predictable design, which incorporates simple graphics depicting the major fruit components. ABSOLUT Gräpevine, which contains no sugar and is made of all-natural ingredients, is sold at the price of $21 for 75cl and $26 for 1 liter, and is also available in 50cl bottles. As to the flavor, the new product is heavily inspired by ABSOLUT San Francisco, which was released last May—the SF edition flavor mix also included grape (not white, though), dragon fruit and papaya. But the latest extension of the brand's City Series, ABSOLUT Miami, is different from the previous 'geographical' product—it has the notes of passion fruit and orange blossom.
"ABSOLUT has always demonstrated a great passion for innovation and has a successful history as a pioneer within the flavored vodka segment. ABSOLUT Peppar and ABSOLUT Citron were introduced at a time when no others brands thought of flavored vodka, and thereby helped popularize the Bloody Mary and the Cosmopolitan," added Kouchnir. "With every new flavor, our ambition is to take the cocktail culture in a new direction and create a new experience unlike any other. We look forward to the range of new classic and contemporary cocktails that will emerge from the launch of ABSOLUT Gräpevine."