AXE, the leading men deodorant brand, is celebrating 10 million of Facebook users that like the brand's page. To mark this event, AXE has launched a creative competition AXE Nation Flag offering young people to design a flag that will symbolize the dynamic nature of the AXE brand.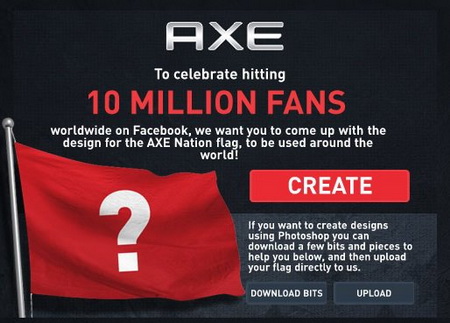 Photo: AXE searches for talented ambitious young people on Facebook, from AXE Facebook page
All people who clicked 'like' on the AXE page can take part in the initiative and express their creative ambitions. A specific 'AXE Nation' app allows users to download a template to create the flag and upload it to Facebook when it's ready.
The only winner will be selected by public voting (Facebook 'liking'). The winning flag design will be used in AXE's promotions and campaigns worldwide.
The voting will have two stages. During the first stage, all accepted works will be divided to separate albums according to the country of participants. Then, users will choose a finalist for their country. During the second stage, international finalists will compete to become the No.1.
AXE has recently launched a new ad campaign, 'Anarchy,' that offers a new personal care range for men and a separate deodorant range for women.