AXE follows the introduction of its 'Anarchy' body spray for men with a special limited-edition women line which has the same title.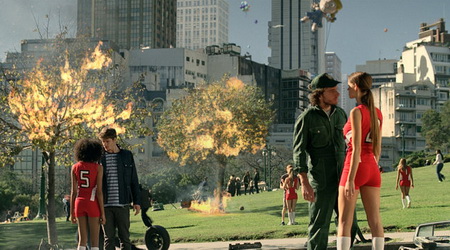 Photo: a snapshot from the new ad, from www.nytimes.com
The commercial created by the London office of Bartle Bogle Hegarty, depicts people who lock eyes and walk hungrily toward one another demonstrating the sexual tension.
The campaign also includes print and online ads. The first of two commercials will appear on AXE's Facebook page today, and both are scheduled to begin running on television in the United States January 29, and afterward in more than 60 other countries.
Today, AXE also introduces a branded serialized graphic novel on YouTube and Facebook in a partnership with the publisher Aspen Comics today. New chapters will be uploaded every few days. The plot is to be guided by viewers via suggestions and votes.
The new commercials are about "subverting expectations of what an AXE commercial is," said David Kolbusz, a creative director at Bartle Bogle Hegarty in London in an interview to The NY Times. "Before, an AXE commercial was always about a guy spraying himself and a girl being attracted, and AXE giving him an edge in the mating game, whereas now women also have something to spray on themselves, and consequently there's more of an equilibrium between the sexes."
AXE decided to produce a female product after its Facebook page received 2.3 million 'likes'. Now, AXE dominates the men's body spray category, with a 74 percent share of the market, according to Symphony IRI Group, a market research firm.
AXE Anarchy for ladies includes only the limited edition body spray, while the men's line includes a deodorant, antiperspirant, shower gel and shampoo.