Not only BMW signs American artists to create miniatures of its race cars, the automaker rolls out a nationwide advertising campaign on Saturday, January 14, which is aimed to emphasize its image as 'the ultimate driving machine'. The campaign supports the introduction of BWS'S 14 new models in the United States this year.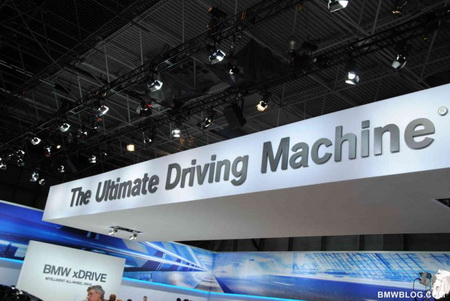 Photo: 'The Ultimate Driving Machine' stand, from www.bmwblog.com
The campaign includes a 30-sec video spot created by Kirshenbaum Bond Senecal & Partners, BMW's lead agency in the US for national brand creative work and ads for BMW dealers. The spot will debut on NBC's broadcast of the N.F.L.'s wild-card games. The new spot will also run during prime-time programs like 'House,' 'The Big Bang Theory,' 'Modern Family' and 'Law and Order: SVU' on the Fox, CBS, ABC and NBC networks. It also will run nationally on cable channels throughout the year.
In the new spot, a BMW M3 Coupe on a track is followed by a BMW X5 in sand, then a BMWi8 appears on a bridge, and a BMW 7 Series in a tunnel. The voice-over says, "We don't make sports cars. We don't make S.U.V.'s. We don't make hybrids, and we don't make luxury sedans. We only make one thing, the ultimate driving machine."
The new slogan replaces the 'Joy' ads that ran for the past two years.
The introduction of 14 models in 2012 will be the most by BMW in the United States in one year in at least a decade, says The New York Times. According to the BMW's spokesman, the company's 2012 advertising budget would be "slightly more" than its budget in 2011 ($109 million in the first nine months).
Ed Brojerdi, co-chief creative officer of Kirshenbaum Bond Senecal said the agency was dealing "with one of the most iconic taglines in marketing. We needed to make sure the marketing is as encompassing as the portfolio. Big brands have a focused point of view, they stand for something. BMW evokes the joy and passion for driving, sheer driving pleasure."