Brands are gearing up for Super Bowl XLVI, which is slated for February 5 this year, with new hilarious viral commercials. Since the event attracts millions of viewers, brands do their best to amaze and the public with their ads and pay a lot for that (this year, all TVCs for the game sold out at an average price of $3.5 million per thirty-second ad, and this is the highest price in the game's history) . Usually, the Super Bowl adverts are standalone commercials and do not start new campaigns, but Mars Chocolate's brand M&M's wants to use this event to introduce its new candy spokesperson, Ms. Brown, which will certainly appear in upcoming promotions by the brand. This sport event is "the perfect opportunity to launch the biggest news for M&M's in years," says Debra A. Sandler, Chief Consumer Officer of Mars Chocolate North America, and adds that the new advert will "kick off a year of activity" featuring the new character.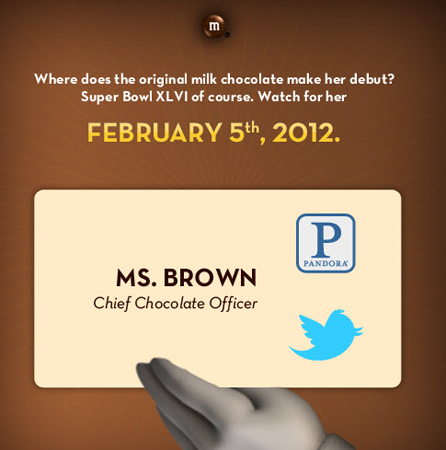 Photo: Ms. Brown's Business Card, www.facebook.com/mms
Some brands prefer to invite their fans to produce groundbreaking commercials for Super Bowl. For instance, tortilla brand Doritos has been asking public to create mind-blowing adverts, with the best of them to air during the game (and if they scoop the first positions on the USA Today Super Bowl Ad Meter, the brand will give their creators very good money). M&M's didn't use crowd-souring creative force to develop its Super Bowl XLVI advert—the brand's creative agency of record, BBDO New York, got behind this project. Ms. Brown, will join a team of the brand's five animated mascots, red, yellow, blue, green and orange M&M's, and will also have a distinct personality. According to The New York Times, the second female in the M&M's cast after Ms Green, "is an intelligent woman with a sharp wit who finally decided to reveal herself after working for decades behind the scenes as 'chief chocolate officer.'"
Now, the new character is 'coming out' in teasers (though, it is disguised), launched in social media channels including Facebook and Twitter, where she has her own channel. Ms. Brown's first tweet says, "'Well behaved women seldom make history'—Laurel Thatcher Ulrich. 'Making history is easy when you're the original milk chocolate'—Ms. Brown." In addition to this, there'll be print, online and mobile ads and radio promotions, which will introduce the new colourful spokesperson to the whole world in the most entertaining and engaging way.
Last year, an average audience of 111 million people watched the Super Bowl game, and this year it will certainly be the same or bigger, so the new M&M's choose the right time to present its new character. Hopefully, such a great start will help boost Ms. Brown's career within the brand's further promotions.