Branding specialists Brandhouse have created the brand strategy and identity for Momenta, an innovative adult weight-loss management programme to operate within the health and fitness sector. Momenta has been developed in line with the strategic objectives and mission of MEND, (Mind, Exercise, Nutrition…Do it!), the social enterprise that launched over a decade ago, which empowers families to become fitter, healthier and happier, and to reach or maintain a healthier weight. The new programme tailored for adults will cover nutrition, physical activity and behaviour over a 12- week course, with support programmes and a website being developed to help participants continue their learning beyond the initial course. This programme, which is currently being piloted, will be available to both private and local authority health and fitness facilities in selected areas of the UK.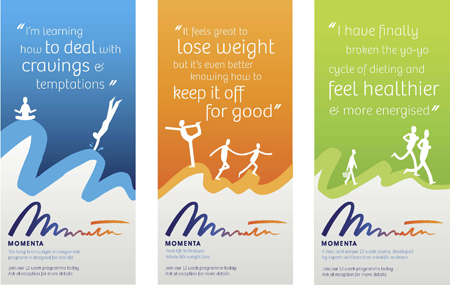 Tasked with developing a brand strategy to engage both health club operators and consumers, Brandhouse has developed a brand story and creative identity bringing together the three key elements of weight management — behavioural change, exercise and nutrition. These elements have been developed by Momenta in conjunction with medical expertise to provide realistic and sustainable weight management techniques.
Mark Rae, Business Development Director at Brandhouse, comments, "Developing a brand story which appeals to both business and consumer is always a challenge, but one we have been successful in achieving in a crowded market place. Our approach is designed to engage the target market on a higher emotional level as we wanted to illustrate that Momenta provides a practical and long-term solution, and empowers participants to maintain their weight management for life."
Lisa Taylor, Strategic Partnership Director at Momenta adds, "Following the success of MEND, we're delighted to launch a new weight management programme for adults. Weight management is a sensitive, but critical matter on a national level.  We believe Brandhouse has reflected this in a new and emotionally compelling strategy and brand, clearly communicating the education, encouragement and support delivered in a unique 12-week programme."
Pilot programmes are now running across 10 health club sites, with new partnerships due to launch with gym operators over the next 12 months.