Nike has presented the Nike+ FuelBand, an innovative wristband, a new sport accessory that tracks and measures everyday movement and thus inspiring people to be more active.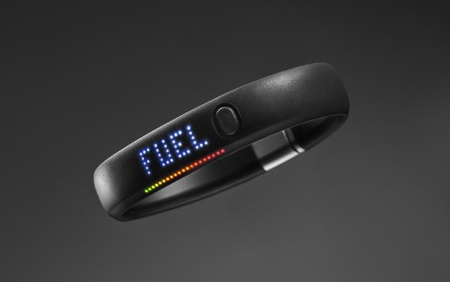 Photo: The Nike+ FuelBand
The Nike+ FuelBand was unveiled at an event in New York attended by seven-time Tour de France champion Lance Armstrong, Oklahoma City scoring champion and all-star Kevin Durant, who inspired Nike designers to create Nike Zoom KD IV as part of its Year of the Dragon collection, and 2011 IAAF women's 100-meter World Champion Carmelita Jeter.
"The NIKE+ FuelBand is a way for Nike to further evolve the exciting possibilities of merging the physical and digital worlds," said Nike, Inc. President & CEO Mark Parker "Nike has always been about inspiring athletes, and the NIKE+ FuelBand will help motivate them in a simple, fun and intuitive way."
The wristband features an ergonomic user-friendly design that provides a user with information about different activities through movement of the wrist via a LED dot matrix display. There are four metrics including Time, Calories, Steps and NikeFuel. NikeFuel is a normalized score that awards equal points for the same activity regardless of physical makeup.
Users can set a daily goal of activity and the Nike+ FuelBand's display LED lights will go from red-to-green as the user gets closer to their goal. Tracking the everyday progress is easy as the FuelBand syncs with the Nike+ website through a built-in USB, or wirelessly through Bluetooth to a free iPhone app.
The Nike+ Fuelband will be available for preorder starting January 19 in the US at Nikestore.com for a suggested retail price of $149.