ABSOLUT has signed Gorillaz band artist Jamie Hewlett to design a new limited edition bottle for its vodka. The ABSOLUT London bottles are described as a "unique take on London's style and fashion pioneers over the past 200 years".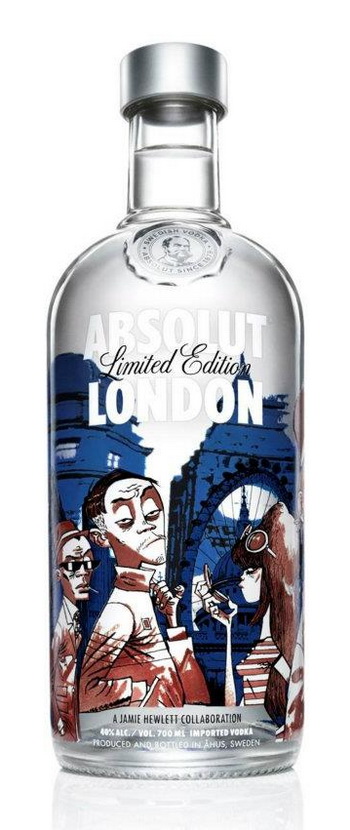 Photo: ABSOLUT London bottle, from ABSOLUT Facebook page, clickable
The bottles feature seven characters from the London's past including the Dickensian, the 18th century dandy, the punks, the mods, the 50s pinstripe, the 60's chic, and the 80s casual. 50 ABSOLUT London bottles will be launched exclusively in Selfridges and Harvey Nichols on March 1, before a general release in April. ABSOLUT will be running a digital campaign to promote the launch. It  has already started promotion on Facebook.
Additionally, tomorrow ABSOLUT launches an online competition. Fans are invited to upload their photos to Instagram for a chance  to win a bottle of ABSOLUT London.
Hewlett said: "London has such a fascinating and rich history which has inspired me over the years.
"For ABSOLUT London I chose to re-create seven iconic characters from different eras who are largely defined by their style as well as their impactful contribution to London's culture at the time."
ABSOLUT regularly collaborates with established artists to create new limited-edition designs. One of the latest creations was an Art Basel Miami bottle. Recently, ABSOLUT has also presented its ABSOLUT Blank art project in India.