adidas rolls out a new men's training SS12 collection bringing top athletes together for its products promotion.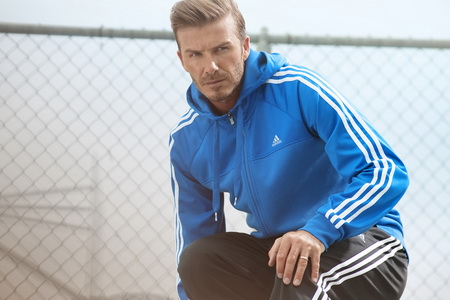 Photo: David Beckham promoting Essentials collection
"World class athletes don't train purely for training's sake -they train because it helps them get better at their sport. They play football, basketball and tennis and tailor their training to make them better at what they love doing. And because they play to win, they train to win," comments adidas on the promo campaign.
The athletes include Leo Messi, David Beckham, David Villa, Derrick Rose, Dwight Howard, Kaka, Nani, and Andy Murray. The sporty men showcase the different ranges of the training-specific footwear and apparel from adidas.
The campaign's special focus is the boxing inspired training that promotes by the adizero range of lightweight footwear and apparel. The concept is based on the story of two people, athlete and trainer, coming together to push each other to new limits.
In the story, Spanish Football superstar David Villa collaborates with French boxer Alexis Vastine to create a boxing inspired training work-out.  Villa wears the adizero F50 trainer, the lightest (250g) training shoe in the adidas locker, while Vastine wears the Response Trainer II, a multipurpose training shoe. adidas also unveils the new adipure trainer designed specifically for the gym.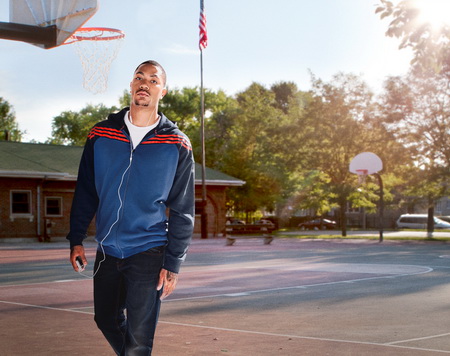 Photo: Derrick Rose promoting adiScape hoodie
adiScape range is the apparel athletes wear on the way to and from the gym. adidas launches the new adiScape full-zip hoody with help of Chicago Bull Derrick Rose who wears the hoody on the basketball court in South Chicago where he played as a child.
David Beckham demonstrates the adidas Essentials collection, a range of functional apparel for an  athlete's pre and post exercises on their journey to and from training.  This colletion includes seamless underwear range. Beckham also promoted adidas Neo label, watch the behind-the-stage-video below.
Other ranges include upgraded Clima 365 and techfit products.
Additionally, adidas Originals has teamed up with sound engineer LuckyBeard to launch a the München 'Leploop' campaign marking the 40th anniversary of its München style.