One of the most famous family businesses in the world, Bacardi Limited has officially started celebrating the pre-announced 150th anniversary of the founding of the Company and the Bacardi rum brand on February 4.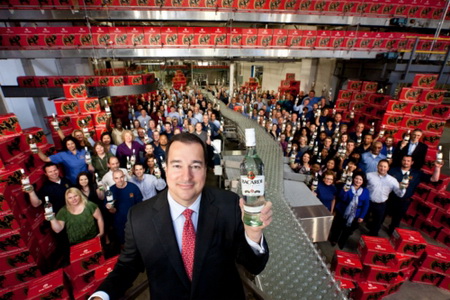 Photo: Bacardi Limited Chairman Facundo L. Bacardi and employees
Bacardi has started organizing Bacardi birthday parties and events around the world. One of the first parties was organized together with Rolling Stone magazine. 'Bacardi Bash: 150 Years Rocking the Party' in Indianapolis featured performances from LMFAO, Lupe Fiasco, Cobra Starship and Gym Class Heroes. The events continue throughout 2012 as Europe, Latin America, Asia-Pacific and the Middle East.
The big Bacardi family has nearly 600 members from around the world that gathered in Puerto Rico to celebrate the 150th anniversary at their largest reunion ever. They created a family photo of all eight generations of the Bacardi family and a bust of Bacardi founder Don Facundo Bacardi Masso was unveiled.
Family members joined Bacardi Limited Chairman and great-great grandson of Company founder, Facundo L. Bacardi, in the planting of a coconut palm to commemorate the original 'el coco' that stood at the entrance of the first Bacardi distillery in Cuba and has long symbolized the Bacardi family's perseverance over adversity. In addition, Puerto Rico Governor Luis G. Fortuno presented Bacardi with a proclamation declaring February 4 'Bacardi Day' in acknowledgement of the Company's key role in the island's economy.
Bacardi fans can visit the brand's Facebook page for a chance to win tickets to upcoming birthday parties and Bacardi party crates filled with all the ingredients to host their own gatherings.
On February 11 at 8 pm ET, viewers can watch National Geographic Channel's 'Ultimate Factories' program that will take them in the U.S. and Puerto Rico on a tour to see how Bacardi rum is made.
Another part of celebration includes displays at Miami International Airport, Puerto Rico's Luis Munoz Marin International Airport and other select international airports that roll-out a limited edition Bacardi blend, Ron Bacardi de Maestros de Ron, Vintage, MMXII priced at US$2,000. Additionally, exhibit showcasing heritage of Bacardi rum opens in Turin, Italy, at the Museo dell'Automobile di Torino (Automobile Museum of Turin).
On February 20, Bacardi will launch Legacy Cocktail Competition, drawing top barmen from more than 25 countries to the finals in Puerto Rico.
In the end, to celebrate its 'Year of the Bat' campaign, Bacardi will launch a  15-second advertisement describing the many environmental and economic benefits of bats to air on the CBS JumboTron in New York City's Times Square until the end of March.