Coke Zero, the no-calorie drink from the beverage giant, has kicked off a new campaign in Great Britain, following on the heels of the new round of Diet Coke 'Love It Light' promotion in the country, launched in partnership with the Benefit Cosmetics beauty company. The new marketing effort targeted at young male will be rolled out on video on demand services and online until early March and will be offering the drink's fans to 'Taste the Possibilities' (as the strapline says).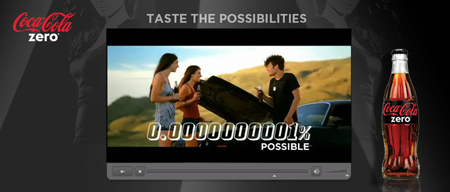 Photo: A snapshot from the www.cokezone.co.uk website
The new campaign, developed by Ogilvy Brazil is dedicated to exploring new and exciting opportunities the life can give you when you even don't expect it. In the ad, a guy finds himself in the middle of nowhere, on a deserted highway with his car broken down, and as soon as he opens a bottle of Coke Zero to refresh himself, suddenly there comes up a hot girl to fix his vehicle. And as he continues to sip the carbonated elixir, new great and yet more improbable things happen and improbability increases—another girl shows up, with more Coke Zero bottles. The situation he is in the end of the spot is estimated at 0.0000000001 possible.
"This new TVC signals the start of what's sure to be an exciting year for Coke Zero. The spot captures the essence of the brand as a beacon of possibilities, showing consumers that—just like the 'Zero Sugar, Great Coke Taste' Coke Zero offers—even the impossible can become a reality when you 'Taste the Possibilities' with Coke Zero," commented Zoe Howorth, market activation director for Coca-Cola Great Britain. In addition to the advert, the brand is rolling out the promotion on the www.cokezone.com website, offering its fans an opportunity to win a PlayStation until February 23.