Along with the introduction of innovative products for elite athletes, Nike has unveiled Nike+ Basketball and Nike+ Training—experiences connecting digitally enabled footwear with interactive mobile applications.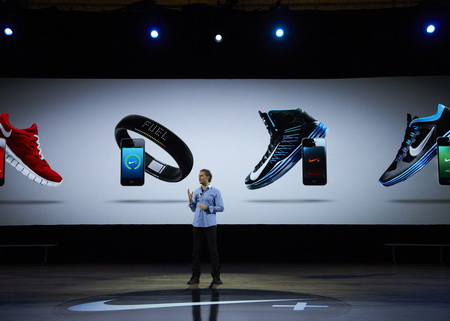 Photo: the introduction of Nike innovative products at the Nike summit in New York City
Nike+ is a community of six million digitally connected athletes that continues to grow after the launch of the Nike+ Fuelband. With the introduction of new products it may expand much more.
The new Nike+ Basketball measures how high, how hard and how quick players play each game, while Nike+ Training experience turns training routine into a game creating a training companion. The Nike+ Basketball experience features a 'Showcase' mode, that enables recording their live data on the video. Nike+ Training features insights and workouts from some of the world's top athletes including Rafa Nadal, Manny Pacquiao, Allyson Felix and Hope Solo that motivate users to train harder.
The Nike+ Pressure Sensor built into a digitally enabled shoe collects information about the user's movement and transmits data to their phone using wireless connection.
The first NIKE+ enabled Basketball shoe will be the Nike Hyperdunk+ which LeBron James will wear this summer (the promo videos available on the Nike YouTube channel), while the first the Lunar Hyperworkout+ for Women and the Lunar TR 1+ for men will become the first Nike+ enabled Training shoes. The footwear will be available at retail starting June 29, 2012, in the US, UK, France, Germany and Mainland China.