Procter & Gamble is finally rolling out its new Tide Pods detergent that was delayed for a quite long time. The company also plans to launch other new products and brands to expand on the market.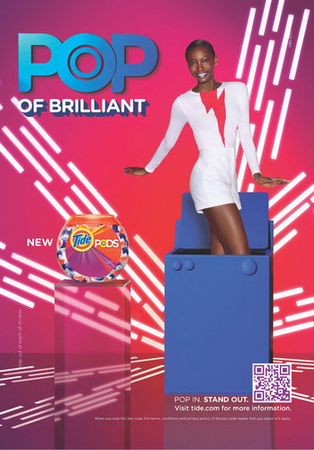 Photo: a Tide Pods ad, from www.nytimes.com
During a P&G event in Cincinnati, CEO Bob McDonald said that the company intends to create more new categories, new brands and new technology globally. The first move within the «discontinuous innovation,» how McDonald calls it, is the Tide Pods detergent, which would be the biggest product innovation of 2012.
Tide Pods is a unit-dose dissolvable packet of detergent, stain fighters and brighteners that is appearing now  at retailers nationwide. The product was expected to be launched in August, 2011. The ad campaign created by Saatchi&Saatchi is said to be colorful and inspired by pop art, but will launch later this month.
According to The NY Times, the campaign features attractive models that are "popping out of washers in fashionable outfits after joining the pod squad". The idea of the campaign named 'Pop in. Stand out' is inspired by four pop artists: Miles Donovan, I Love Dust, Kari Moden and Steve Wilson. The video spots feature a remixed version of 'Pop Goes the World,' a 1987 song by Men Without Hats. Slogans like 'Get ready to pop your laundry,' 'Pop of fresh,' 'Pop of clean' and 'Pop of hello gorgeous' add more to the concept.
A vibrant web site at tidepods.com provides customers with information on the new product. Additional information is also available the Tide fan page on Facebook; messages on the Tide feed on Twitter; and video clips on YouTube. Print ads will feature QR codes that can be scanned to share information about Tide Pods.
Tide Pods will cost more than a traditional powder detergent. The pricing is justified by added benefits of the detergent, just like in case with Tide liquid detergents, such as Tide with Febreze, according to Mr. McDonald.
Recently, P&G announced it sells the Pringles brand to Kellogg.