Smirnoff, one of the most 'artistic' vodkas in the world, has embarked on a new creative collaboration with two Australian artists, Nanami Cowdroy and Beastman (Brad Eastman), who created two designs for limited edition Smirnoff No. 21 packs. Starting with a black canvas, the two visual art creators developed two awesome interpretations of Smirnoff purity, which will inspire public to create their own art pieces for a digital wall, which will be transformed into the third design.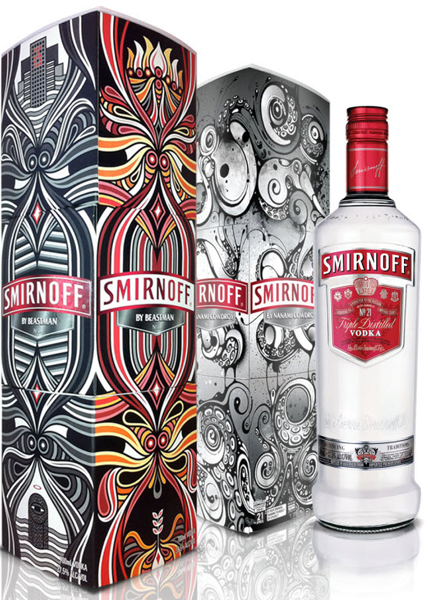 Photo: Smirnoff limited edition packs designed by Beastman & Nanami Cowdroy (click to enlarge), www.bobbysix.com
"I found the Smirnoff concept of 'purity' to be ideal, as I'm accustomed to starting with a blank canvas, which I find is always exciting and enticing. I was inspired by the unique twisting design of the Smirnoff Limited Edition pack—which sparked the idea of a playful octopus, its tentacles coiling around and embracing the bottle within," commented Nanami on the collaboration.
Smirnoff Australia will be hosting the interactive Smirnoff Start Pure Gallery in Sydney's Surry Hills (March 2–8, admission is free), where they will be able to see the large-scale versions of both designs, as well as the worked by these artists. The visitors will be then asked to produce an art piece of their own in the gallery "using the paper chromatography process—a method for testing the purity of compounds and identifying substances," www.bobbysix.com reports, and then tag their creations on the Smirnoff Australia Facebook fan-page. Smirnoff will set these pieces together on a wall and capture this crowdsourced 'album', "stored in a display case on the gallery walls," for the third design for a 3D limited-edition pack, which will be produced in five copies only.
"I tried to push the theme 'start pure' through the design—conceptually you start with nothing and you add life and you add years of hard work, and then you become something. Creating little stories that mean something to me, that's what I love that about being an artist. I love that I can trigger people's thoughts and trigger people's emotions," shared Beastman.
Visitors to the Smirnoff Australia Facebook can take a virtual tour around Cowdroy and Beastman's studios, where they create their hilarious visual pieces, and get access to downloads and find links to the artists' websites. The bottles will be available from March 1 for a limited time only—they will hit shelves of Coles, Woolworths and local liquor retailers' stores and will be sold at a price of RRP $32.99 while stocks last.