To launch its limited edition 'USA' diapers and wipes, Pampers has partnered with two-time Olympic Games Gold Medalist (Beach Volleyball) and Team USA Hopeful, Kerri Walsh and her family.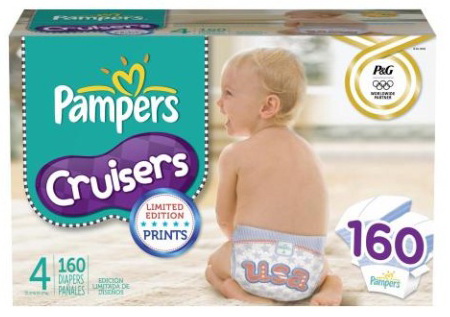 Photo: the 'USA' Pampers line
Walsh, her husband, Casey Jennings, and sons, two-years old Joseph and one-year-old Sundance will promote the new range along with their preparation for  the London 2012 Olympic Games.
«With two sons, I know firsthand how active young babies are—their play is similar to the workouts I do as a competitive athlete each day,» commented Walsh. «As an athlete, I rely on equipment that enables me to perform at my athletic best, and as a mother, I always look for the gear that will help my sons do the same. That's why I adore Pampers Limited Edition 'USA' diapers and wipes, which offer performance and style for my little champions of play, Joseph and Sundance!»
The Pampers Limited Edition USA diapers are available in Cruisers sizes 3 through 5 and feature a 'USA' logo print combined with red, white and blue stars and stripe designs. As part of the campaign, Pampers will be providing these diapers and wipes to Team USA hopefuls, like Walsh, who will take part in the London Olympics. Consumers will also be able to purchase the diapers at stores nationwide beginning April.
Beginning April 16, consumers have a chance to win a trip for their family to attend the London 2012 Olympic Games and other prizes on Pampers Facebook page.
P&G is a global sponsor of the London 2012 Olympic Games and its Pampers brand will launch an integrated communications program that will include sponsoring additional athletes and their families from different countries. These families will appear in advertorials to run in local media and take part at hometown events.
Last year, Pampers celebrated its 50th anniversary.