After unveiling its London bottle by Jamie Hewlett, ABSOLUT introduces the next limited edition bottle, the ABSOLUT Vodka Blank Edition, designed by German artist Mario Wagner.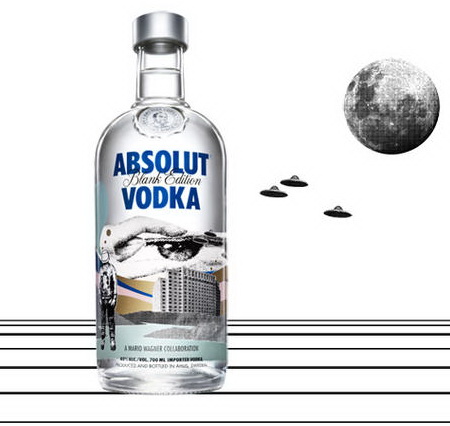 Photo: ABSOLUT Vodka Blank Edition
Wagner collaborated with the vodka producer within the ABSOLUT Blank initiative several months ago. For the project he drew an artwork inspired by 1960's when space race and travelling to the moon fascinated people. The new bottle graphic design is influenced by that 'space' artwork. It will be available in seven markets, starting March 2012.
"Being one out of 20 artists to participate in the ABSOLUT Blank creative movement was very inspiring. ABSOLUT gave us great artistic freedom, and I loved meeting artists from other countries and different creative disciplines. Therefore I was thrilled when I got the opportunity to extend my collaboration with ABSOLUT by creating my own bottle," says Mario Wagner. "The bottle design is very personal to me, as it expresses my fascination with the idea that we might not be alone in this universe!"
The bottle features an astronaut, an empty speech bubble over his head and celestial bodies, UFOs and the allseeing eye. According to Wagner, each element has its place. The artist gives public an opportunity to decide themselves what the astronaut 'says'. The other elements are bearing a message of a person who looks at the world from another dimension.
ABSOLUT didn't plan to create this bottle initially but after the Blank project during which 20 artists were given a literal ABSOLUT Blank bottle shaped canvas to draw on it, the idea of a new bottle came up by itself.
"We love it when our collaborations evolve into something new. This project beautifully shows how creativity leads our brand forward," commented Mathias Westphal, Global Brand Director at The Absolut Company.