Apple has introduced its new iPad, the third generation device that features an ultra bright Retina display, Apple's new A5X chip with quad-core graphics and Wi-Fi + 4G that allow connection globally through AT&T's and Verizon's 4G LTE networks. The iconic tablet proves the expectations and boasts of a 5 megapixel iSight camera with upgraded optics and 1080p HD video. iPad 3 functions 10 hour without recharging.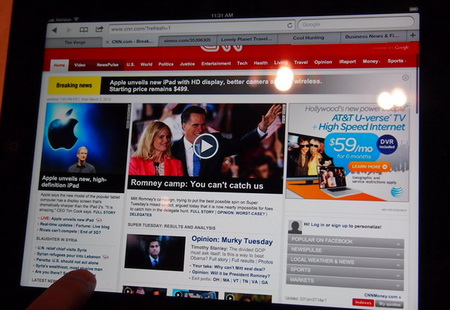 Photo: the new iPad3, from Mashable
"The new iPad redefines the category Apple created less than two years ago, delivering the most amazing experience people have ever had with technology," said Philip Schiller, Apple's senior vice president of Worldwide Marketing. "The new iPad now has the highest resolution display ever seen on a mobile device with 3.1 million pixels, delivering razor sharp text and unbelievable detail in photos and videos."

With four times the number of pixels of iPad 2, the new Retina display provides very sharp, vivid and realistic image. It has 3.1 million pixels that is more than one million more pixels than an HD TV as well as 44 percent increased color saturation.
The A5X chip delivers a responsive user experience, while staying power efficient. iPad Wi-Fi + 4G with built-in next generation 4G LTE allows fast download and upload speeds worldwide.
The updated iOS 5.1 features a redesigned Camera app with video stabilization technology; the ability to delete photos from Photo Stream; support for dictation in English, French, German and Japanese; and Personal Hotspot. Now consumers can dictate their iPad 3 what it has to do using their voice instead of typing. It's even possible to update a Facebook status, tweet, or write Instagram captions. It suports thousands of Apple's apps, including the new iBooks2 with Textbooks that provides users with an opportunity to create their own interactive books.
The new version will hit the stores on March 16 and will be priced starting at $499 for the 16GB model, $599 for the 32GB model and $699 for the 64GB model. iPad Wi-Fi + 4G for either AT&T or Verizon will be available starting at $629. The previous version, iPad 2 now will be offered at an affordable price starting at $399.
Apple calls the iPad and what is happening in the tech industry now a revolutionary «post-PC world».
«Last year alone we sold 172 million post-PC devices,» Apple's CEO Tom Cook told the audience at the Yerba Buena Center in San Francisco, during the introduction of the new iPad. «And this made up 76 percent of our revenues. This is incredible.»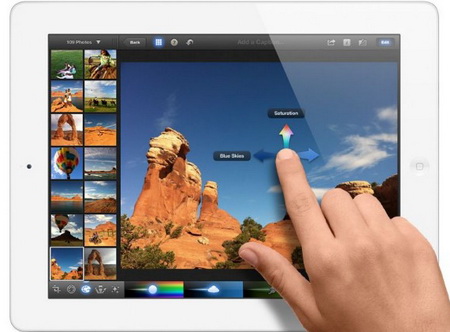 Photo: the new iPad3, from Mashable