International branding and packaging consultants CARTILS developed the strategic positioning, branding, new bottle shape, and mono carton for Pernod Ricard's new Royal Stag Barrel Select. Royal Stag, the largest brand by volume for Pernod Ricard globally, is also the valuable spirits brand in India considering net sales and profit. To consolidate the brand's position and enhance brand power in the country, the alcohol giant introduced Royal Stag Barrel Select, locally produced premium edition of the whisky between the deluxe and premium segments on Indian market.
Bikram Basu, Vice-President Marketing, Pernod Ricard India said, "CARTILS has an understanding of our business in India, our expectation, and market sensibilities. They match the same with their international perspective and experience of design. Royal Stag Barrel Select Whisky is an excellent expression of that collaborative work."
CARTILS considered it strategically vital to construct a balance between the family relationship within the Royal Stag brand and premiumisation. Therefore it was necessary to preserve brand familiarity whilst elevating it to a significantly more premium level to avoid any form of portfolio cannibalization. This balance is reflected in both the gold two-tone illustration of the Stag, which was placed in a dominant position, and the rectangular bottle shape that is still recognizable, but has been tapered for a more premium feel.
The new product is a great addition to India's premium whiskey market, which can compete with international brands whilst remaining true to its family heritage. Royal Stag Barrel Select was successfully launched in the Indian market December 2011.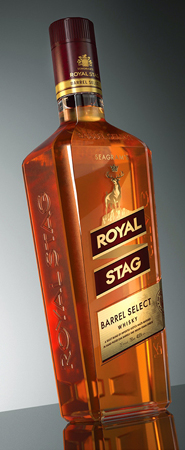 Photo: Pernod Ricard's Royal Stag Barrel Select look developed by CARTILS