Diesel has extended its partnership with Ducati that launched in 2011 with the sponsorship of the Ducati Team in MotoGP. This year, the iconic apparel brand introduces the Monster Diesel capsule collection.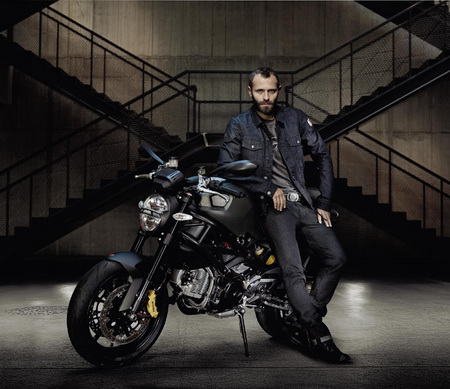 Photo: Monster Diesel collection and Ducati Monster1100EVO, from diesel.com
The collection's concept is an 'urban military chic' and highlights the next version of the Ducati's famed 'naked' motorcycle, Monster 1100EVO.
"The Monster Diesel, and the collection dedicated to it, reflect the "coolness" of this iconic motorcycle and our brand in general," said Gabriele Del Torchio, President of Ducati Motor Holding. "The collaboration with Diesel, underlines our focus on the style and trends that shape the market and I am delighted to associate our world with that of fashion and, in particular, with Diesel. Both brands globally represent technology and innovation in pure Italian style."
The collection by Diesel includes eleven different styles featuring slim-fitting biker jackets, sweats, tees, a five pocket denim and accessories. The treated rubber prints and colors of black, grey, and white with elements of red celebrate the luxurious motorbikes as well as stylish and brave, 'made in Italy' clothes and accessories by Diesel.
The collection was exclusively presented at a dedicated party in SoHo, NY on March 14 and will be available starting from mid-April in the Diesel stores, the Diesel online store and a selection of several Ducati dealers. Diesel is also promoting the new version of its popular fragrance 'Only the Brave'. The Monster Diesel hits the Ducati stores worldwide starting late July priced at $13,795.
The bike will feature Ducati's standard black Trellis frame, wheels and engine covers as a Diesel-label seat, leather passenger seat cover, new exhaust system heat shields and personalized nameplates. The most popular Ducati's model are the Multistrada and Diavel, while the Monster remains Ducati's best-selling series in North America, with 2,755 units sold in 2011, according to Forbes.