PepsiCo's Doritos has started to promote its new Jacked tortilla chips. Doritos calls it their "biggest innovation ever." The product debuted at the South by Southwest (SXSW) Music Conference and Festival in Austin, Texas with the introduction of a giant vending machine during a dedicated party on March 15.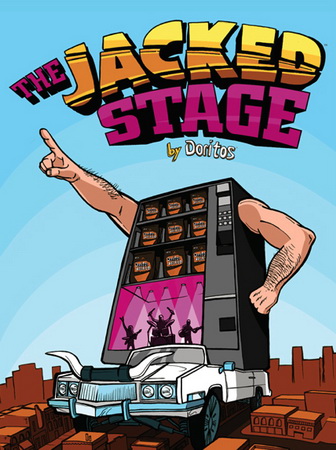 Photo: Doritos vending machine, from Doritos Facebook page
The 56-foot-high vending machine entitled The Jacked Stage by Doritos is also serving as a stage for bands to perform on it, while it is giving out product samples and prizes to visitors of the SXSW music festival. The bands roster include such pop stars as Chiddy Bang, Cool Kids, !!! and Gemma Ray.
Doritos Jacked is new kind of chips that are forty percent bigger in size and thickness. The new chips that come in two flavor combinations, Enchilada Supreme and Smoky Chipotle BBQ, are created for consumers to indulge the texture and taste ultimately. The product hits the stores nationwide starting March 26, 2012.
To receive a free sample before the official launch, consumers should show activity on FourSquare, Twitter, Instagram or Facebook. Then they will be instructed how to earn specific Doritos-branded quarters that will be placed throughout the city of Austin. The quarters should be to insert into the vending machine and get the chips and special prizes.
Last month, Doritos named the winners of its Crash the Superbowl competition.