Echo has designed the branding, primary and secondary packaging for Carling's innovative new summertime beer, Carling Zest—a 2.8% ABV beer with a light, citrus flavor brewed under the Molson Coors major brand name.
Following its work in 2011 on the new Carling core identity, Carling C2 and Carling Chrome, Echo was briefed to create an identity and packaging that clearly communicated the summertime and citrus proposition, amplify Carling Zest's on-shelf presence and appeal to both male and female drinkers and help the beer compete as an alternative to summer drinks, such as cider and rose wines.

Carling Zest bottle
Alastair Jones, head of client services at Echo says, "The Zest design maintains a strong link to the core Carling brand whilst communicating the summertime positioning and refreshing, citrus product proposition."
The secondary packaging features the Carling Zest identity with an image of the bottle immersed in ice cubes creating an energetic splash. The black and silver of Carling's core identity further reinforces its premium positioning.
Annette Middleton, Carling senior brand manager at Molson Coors, says, "The limited edition beer has tested incredibly well with consumers who are drawn to Carling Zest's summery appeal."
The product launch is to be supported by a £1.9m campaign covering TV, press, outdoor and digital advertising and will be on sale until September 2012. Carling Zest will be available in four packs throughout the UK off-trade from this week and will be shortly followed by the 12 packs and single bottles in the off-trade and on-trade respectively from March 18. Carling Zest will also be available on draught across the on-trade from May.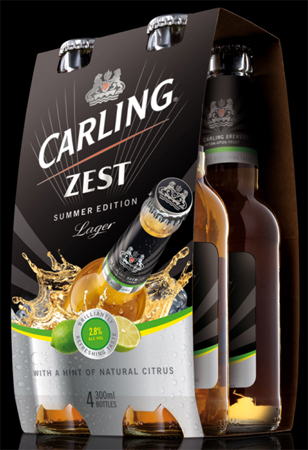 Carling Zest multi-pack