Effen Vodka has teamed up with famed American fashion designer and Council of Fashion Designers of America (CFDA) award winner, Richard Chai to create an art installation.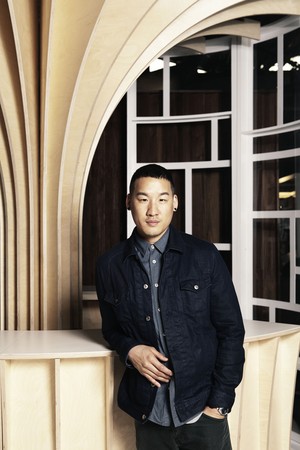 Photo: Richard Chai, photo by Taylor Jewel, from wwd.com
On March 22, Effen Vodka unveiled its installation for the DIFFA: Design Industries Foundation Fighting AIDS 15th annual Dining by Design tour. Celebrity fashion and interior designers, architects will gather together to create extraordinary dining environments.
For the Effen vodka brand, Chai has created the DIFFA's first standalone bar-lounge installation, inspired by the sleek design of the Effen bottle. In his work, high-tech modernity is combined with handcrafted elements resulting in curved sophisticated forms that celebrate the premium-class vodka brand.
«Fashion and design are in Effen Vodka's DNA, which is why we have consistently aligned ourselves with the best partners within these industries,» said Kim Washington, Senior Director of Vodkas for Beam Inc. «Our collaboration with Richard Chai is no exception. His work is both visually appealing and functional—similar to Effen.»
DIFFA's 15th annual Dining by Design started yesterday in New York City. With the aim of  raising money for HIV/AIDS service and education programs, it will travel across the United States throughout 2012.
In addition, Effen Vodka will run 'Inspired by Design' print and digital campaign beginning in April 2012. The campaign will feature up-and-coming designers across fashion, furniture and graphic design.
Effen Vodka was acquired by Beam Global Spirits & Wine in 2009.