Today, identity also encompasses weight, online status, green thrift, and attitudes to reality culture—even in emerging markets, where the joys of spending are still being discovered.
1. City living reigns
Swelling masses of urbanites with lifestyles to suit—style, tech and convenience-savvy—soak up new cultural influences that are blending with fresh brand experience-led approaches. In 2012, Euromonitor International forecasts that there will be 3.7 billion urban residents worldwide. The number of urban dwellers globally will continue to increase, both in 'traditional' megacities but also in new hubs. Meanwhile, a whole mass of new arrivals to cities, often falling into the so-called 'bottom of the urban pyramid' category, may have less disposable income but aspire to a higher consumption that will extend to more space and health cover.
2. Consumer vigilantes speak up
On and offline protest is in the spotlight, pressurising brands towards greater accountability and genuine innovative responses to these engaged consumers.
3. DIY life
In 2012, status becomes more than what you consume. The importance of the greater need for control over lifestyle and persona is brought into sharper relief by the financial uncertainty of recession. In this climate, non-monetary forms of status such as skills, eco-credentials, generosity and connectivity will become more of a priority.
4. Emerging market shoppers
In 2012, throngs of emerging market shoppers around the world are aspiring to more consumption. Emerging market consumers are learning to rely on credit, with store cards appealing to lower income consumers with low access to banking services. Counterfeit items continue to appeal to emerging market consumers as they bring trend-led consumption lifestyles and variety within reach. Convenience has become important for the growing number of time-stripped middle class consumers. Consumers with more wealth are blending shopping with tourism as they spread their consumption wings.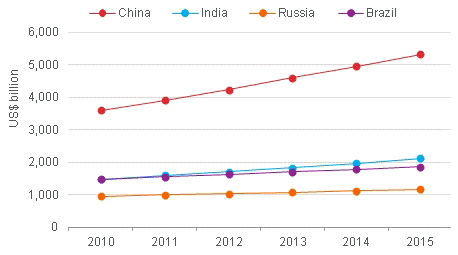 Photo: Euromonitor International from national statistics, Annual disposable income expressed in Constant 2011 prices (Fixed 2011 Exchange Rate); Data for 2012-2015 are forecast
5. Green thrift
While frugality is celebrating all the tech-led innovations at its disposal, its marriage with sustainability is thriving.
6. Reality culture and consumers
Scripted reality or celebrities living the dream—consumers are gripped, sharing views and being moved to change their purchasing behaviour.
7. Smartphone universe
According to Euromonitor International data, annual smartphone sales surged from US$8.4 billion to US$83.1 billion between 2005 and 2010, with China surpassing the USA as the largest national market during 2009. Real global smartphone sales are forecast to reach US$137.4 billion in 2012. For many developed market consumers, PCs and laptops are beginning to take a backseat as most smartphone owners use these convenient devices to surf the internet and watch TV anywhere from parliaments to buses.
8. Tech lifestyles versus slow living and the best of both
For the 2012 consumer—from toddlers upwards, technology is part of life with a lot of simultaneous tech consumption. Access to the internet has extended to accompany people as they go about their daily lives, at work and on holiday. We're moving into a technology space where mobility is becoming less about devices, and more about the mist of data that we each generate with every interaction on the internet. Of course, there's a backlash: a vocal population of consumers who critique today's over-reliance on technology, virtual lives and fixation on various screens. There are also some interesting fusions of tech-led and 'slow' lifestyles that are impacting on buying behaviour. For instance, Chinese e-commerce giant Taobao's launch of a 'try-out' home furnishings store in Beijing to overcome the local need to examine major purchases in person.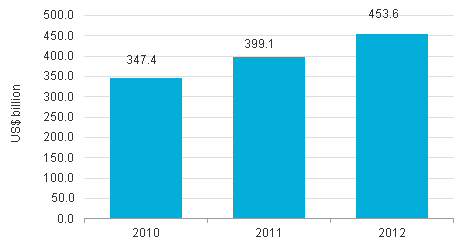 Photo: Euromonitor International from World Association of Newspapers, Online Retailing expressed in Constant 2011 prices (Fixed 2011 Exchange Rate); Data for 2012 are forecast
9. Youth—future imperfect
Young consumers are facing up to a different, less predictable reality in terms of purchasing aspirations, work, living set-ups and role models.
10. Weight as a hot topic
In 2012, the spotlight on weight is just part of a renewed public awareness of what we eat, body image, exercise and general health. Indeed, Euromonitor International's Annual Study 2011 finds that respondents globally rank good health as the most important determinant of happiness (even if awareness that health is important doesn't always lead to healthy living). Young respondents to Euromonitor International's Global Youth Survey claim to skip meals two or more days a week—particularly breakfast. In the 15 leading youth markets, one-third of 16-24 year olds claim to be trying to lose weight.
Read the full version of Euromonitor Intenational article here.