Ford introduces its 2013 Escape with an interactive prime time reality series called Escape Routes.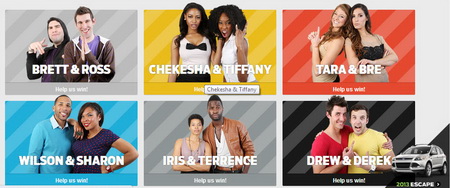 Photo: the Escape Routes teams, from escaperoutes.com
The reality show consisting of six episodes features six teams of two who will take part in a road trip competition. The show will premiere on NBC and mun2 on March 31. Ford announced a casting for teams to participate in the show in November 2011. The Escape Routes initiative was presented in Los Angeles also last year, when actress Jenny McCarthy competed against the country in the 'Words With Friends' game.
The teams will arrive in a new city and compete in a series of "spontaneous adventures and interactive challenges" each week. The winning team will receive the all-new Escape.
Viewers can take an active part in the initiative by giving feedback and talking to teams at escaperoutes.com. On the web site, users have an opportunity to win cool prizes including Nike+Fuel Band. After the registration, users automatically enter a drawing. They can increase their chance to win by claiming an extra entry and inviting friends to participate in the drawing too. The most active users also have a chance to win the 2013 Escape.
To enhance the interactive user experience, Ford has created the online character called iJustine that will share behind-the-scenes content with viewers.
Last year, Ford celebrated its centenary with a variety of original and creative initiatives in differnet countries including a graffiti makeover in the UK.