GE rolls out the next part of its 'Two Words' advertising campaign this week in Australia. The integrated campaign encourages people to share their ideas and thoughts on issues regarding Australia's future.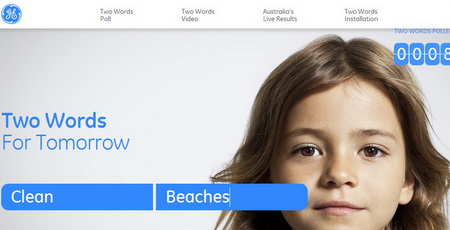 Photo: Australians can share 'two words' online, a snapshot from twowordsfortomorrow.com.au
The concept plays off the idea of 'two words'. At a polling installation in big cities online, Australians can suggest two words that better describe the biggest Australia's challenge at present.
The four meter high iPad-based polling installation constructed of 64 LED light tiles in a form of a 'word waterfall' will allow people to contribute their two words. The words will 'flow' in a single 'stream of consciousness' on the screen, says Campaign Brief. The installations will be available for two days in Melbourne, on March 15—16 then it will tour central locations in Perth, Brisbane and Sydney over April and May.
Other country citizens will be able to take part in the program at twowordsfortomorrow.com.au. The campaign is supported by online advertising and has a dedicated Facebook app and widget. Through this social media project, GE wants to communicate with public and then take it into account when developing their long term business planning.
"We want to spark a discussion among the Australian public to understand what the big challenges are to them," said Emma Rugge-Price, VP Branding & Communications at GE Australia & New Zealand.
"GE wants to work on the things that matter most to Australia, and we want to get a real sense of what they are from the perspective of individual people.  We'll build the key themes into our business planning, and invest in solutions and resources to build a better Australia for everybody."
The previous, 2011 'Two Letters' advertising campaign that was running during six months, proved to be very successful as it demonstrated the scope of the business in Australia and communicated GE's core business strategy, the innovation. It used the idea of 'two letters: G and E'. As a result of the campaign, GE found out that the most of Australian executives consider GE to be an 'influential' and 'innovative company.'
Last fall, GE ran a marketing campaign in China showing how mythology can influence innovation.