Microsoft is promoting its new Internet Explorer 9 browser in a fun unusual way under the slogan 'The browser you loved to hate.'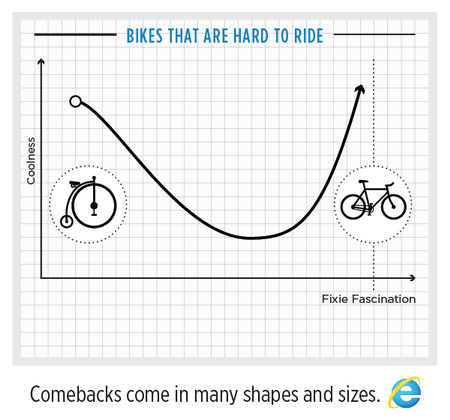 Photo: Internet Explorer comes back in a new shape and size, from browseryoulovedtohate.com
The tech giant has launched a Tumblr site that includes tweets, quotes, and comments from around the web telling about the advantages of Internet Explorer 9. A specially created parody video features a tech freak talking to his counselor about uninstalling Internet Explorer. He says that IE is an ancient browser in different situations until he finds out that the 9th version has something surprisingly new.
The key feature that differentiates the new IE9 from other web browsers is the ability to pin web apps like Facebook, Hotmail, and Pandora to the Windows 7 taskbar. Microsoft cleverly advices users to keep using their browsers but to try the new Internet Explorer—probably they like it.
"In fact, using multiple browsers is pretty much the norm for web enthusiasts today. The neat thing is with IE9's pinning capability and clean site-centric UI, it's the perfect complement to whatever browser you use for daily tasks, letting your favorite sites be front and center with one-click access, " writes Roger Capriotti, Director, Internet Explorer Product Marketing in a blogpost.
The previous, 8th version of Internet Explorer was released in summer 2010. IE8 was positioned as the safest browser.