Levi Strauss is celebrating the World Water Day with an interesting initiative. Starting March 19, the company's employees and store associates promised to wear the same pair of jeans or khakis every day for five days long.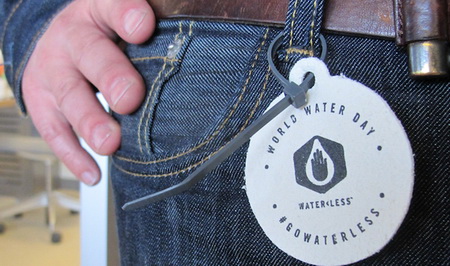 Photo: Levi's Water<Less jeans, from www.levistrauss.com
The participants received a sponge, securely attached to their Water<Less jeans. The sponge will disappear.If the owners wash their jeans. With this move, Levi Strauss demonstrates that nothing bad happens if you don't wash your jeans after every wear but you'll help to save water.
"It's about conservation and sustainability. Washing less means using less water and energy. And this goes back to something we've been talking about for a while here—Care Tag for Our Planet," says Michael Kobori, Vice-President, Social and Environmental Sustainability, Levi Strauss & Co in a blogpost.
Levi Strauss did a scientific research of a pair of Levi's 501 jeans and Dockers Original Khakis and found out that what mostly impacts environment is the after purchase care for the product.
Washing your clothes less, washing in cold water and line drying helps to reduce the full lifecycle climate change impact of your jeans by up to 50 percent, reassures the company.
At the end of this week, Levi's will select three of its 'most stylish' employees and donate $1000 to the water charity of their choice. Consumers are invited to take part in the initiative. They can upload a picture of themselves in the same jeans each day this week using the hashtag #gowaterless on Instagram.
With this initiative, Levi's continues its Go WaterLess program aimed to reduce the use of water when making their products. The company launched Water<Less line of jeans, which are made specifically to never be washed in a washing machine.
Levi's has been supporting water initiatives for years. In summer 2011, it assissted to run the Run4Water Race.