Mercedes has created an inventive and attention-capturing video that features an invisible car. It's a part of a new advertising campaign that promotes F-CELL hydrogen-powered cars. Such cars produce zero emissions and protect the environment.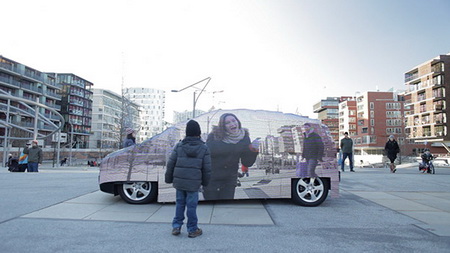 Photo: Invisible Mercedes ran through German cities, feom mashable.com
A Mercedes-Benz B-Class F-CELL car that features the video can travel up to 250 miles and utilizes an electric engine equivalent to 134 horsepower. The F-CELL hydrogen technology is still very expensive but Mercedes-Benz claims it can start producing hydrogen-powered automobiles. They say that hydrogen-powered cars will not appear on the market until 2015. The main problem is the lack of proper equipment in the USA for outfitting fuel stations. It is also difficult to transport and store hydrogen. Though the first steps are being made and technology moves forward.
To create the video, Mercedes-Benz covered the automobile in several mats of LEDs on the driver side of the car and placed a Canon EOS 5D Mark II digital SLR camera on the opposite side of the vehicle.
The video shot in real time transmitted to the LED-powered side creating the effect of invisibility. "Invisible to the environment. F-CELL with 0.0 emissions," appearing the subtitles in the video that also demonstrates the process of the invisibility effect creation.
Last month, Mercedes has arranged its own Fashion Week in the New York City.