Pentawards, the first and major worldwide competition exclusively devoted to packaging design in all its forms, calls packaging design creatives from around the globe to enter the 6th edition of the contest, the Pentawards 'Classic' 2012.
Starting April 2, packaging designers, brand owners, packaging suppliers engaged in developing and marketing of packaging are invited to submit their projects realized within the previous months. All works presented must have been created or produced (launched) since 1 January 2011, in any country whatever. A physical package must be available (produced) before 30 June 2012.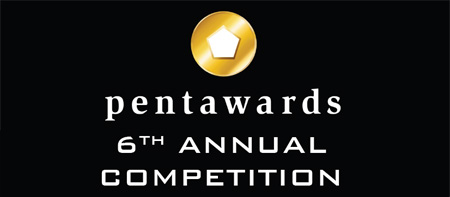 Photo: Pentawards 2012 logo, www.pentawards.org
The entries in five major categories will be judged by the international jury panel, and the most vivid creations will be awarded with a Silver, Gold, Platinum prizes, or unique Diamond Pentaward trophy. In addition to this, some of the works will get special prizes totaling €14,500 from sponsors.
— The Diamond Pentaward winner will receive, in addition to his trophy, the amazing Esko Suite10 software worth €5,000.
— A Sleever International special prize will be bestowed on the best creation in a limited series (worth €5,000)
— The Platinum Pentaward from the Luxury category will receive a booth at the next Luxepack Fair in Shanghai (worth €4,500)
All the winners will be published by TASCHEN in a remarkable book that will be available in November 2012, and will receive a complimentary copy of this reference book.
Entry fee per creation submitted in a category:
Early Bird—from April, 2 to April 12, 2012—€150
Full Registration—April, 14 to May 4, 2012—€195
Last Chance—from May, 5 to May 11, 2012—€225
Attention: There will be NO extension of the registration deadline.
The 6th official Pentawards Ceremony will be held in Paris (the date will be announced on the website of the awards).