PepsiCo is getting ready to kick off its new low-cal Pepsi NEXT product that is expected to become "a game-changer in the cola category" as the company says. The NEXT cola was unveiled in the end of last month and contains 60% less sugar than regular Pepsi-Cola. With the new product, Pepsi responses to the public demand for a diet cola with a full-flavor taste. 'Drink it to Believe it' is a slogan of the new campaign.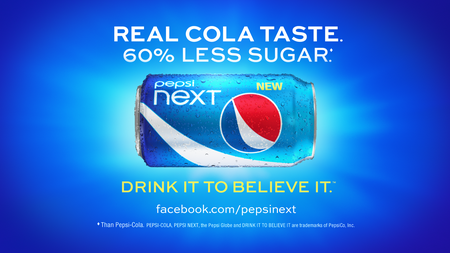 Photo: a Pepsi NEXT ad
"We're on a mission to get consumers to experience the real cola taste of Pepsi NEXT for themselves," said Angelique Krembs, Vice President TM Pepsi Marketing. "We're excited that after years of research and development, we've unlocked the great taste of Pepsi NEXT, the choice for consumers who want real cola taste with less sugar."
The product launch will be supported with a Walmart sampling program that will be running in 800 Walmart Supercenter stores across the US, from March 26  till the end of April. On Pepsi NEXT Facebook page, consumers can find the nearest Walmart store and go there to try Pepsi NEXT for free.
There will also be in-market sampling across more than 40 cities nationwide between the end of March and August 2012. The company will roll out a TV 30-sec spot called 'Baby' and created by TBWA/Chiat/Day. The spot starts airing on prime-time and cable networks on March 26. The ad features a young couple recording their first interaction with Pepsi NEXT, while their baby makes something unbelievable like handstands in the background and they miss it.
PepsiCo also will offer people to 'taste' Pepsi NEXT online on Facebook using a specific application. With help of the app, fans can watch themselves 'taste' new Pepsi NEXT with the 'Improv You' Internet Taste Test.
In addition, Pepsi will use celebrity marketing and specifically target the Hispanic audience with grassroot advertising.