As part of their 150 years anniversary celebration, Bacardi Limited has announced its rarest Bacardi rum.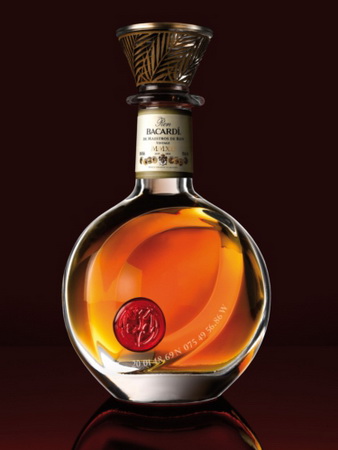 Photo: Ron Bacardiâ de Maestros de Ron Vintage MMXII
The rare rum is a result of collaboration of eight Maestros de Ron Bacardi (or Master Blenders), each a Bacardi family member. Ron Bacardiâ, de Maestros de Ron, Vintage, MMXII is a blend of the finest Bacardi rums that have been resting in oak barrels over the past 20 years and finished in 60-year-old Cognac barrels. The outstanding rum is presented in a hand-blown crystal decanter.
«Our family honors the 150-year legacy of my great-great grandfather and Bacardi founder Don Facundo Bacardi Masso every day by continuing to create and blend our rums the same artful and masterful way he did in 1862,» said Facundo L. Bacardi, Chairman of Bacardi Limited and fifth generation Bacardi family member. «Bacardi rum is not only the world's favorite and best-selling rum; it is also the world's most awarded rum, winning more than 400 awards for taste, quality and innovation.»
According to the company, the Bacardi MMXII Vintage is an aromatic, full-bodied and generous rum with a mellow flavor. It has a bouquet of fresh tropical fruits and sweet floral aromas, completed with vanilla and a smooth oaken character.
The 500ml hand-blown crystal decanter features the coconut palm, known as 'El Coco,' planted at the entrance of the first Bacardi distillery in Santiago de Cuba 150 years ago. There are also the coordinates of 20 01 48.69N 075 49 56.86W that mark the birth place of BACARDI rum in Santiago de Cuba etched on the bottle. The limited series of 200 crystal decanters in leather cases retail for $2,000 each.
National Geographic Channel's 'Megafactories' program will take viewers on a video tour to see how Bacardi rums, including the rare vintage, are made. The program will air starting March 17 in many countries around the globe.