Smirnoff, which last year helped Madonna to find a new dancer in a global search as part of the second edition of its Nightlight Exchange project, is continuing its multi-faceted partnership with the pop-diva with a new fan-oriented project. The iconic vodka brand is offering its fans an access to a collector's album, a set of remixed tracks from the singer's much-anticipated  latest album MDNA, which is slated to hit the stores on March 26.
The Smirnoff MDNA Nightlife Edition Remix Album, which will also due to arrive on Monday, March 26 features seven remixed songs and can be purchased exclusively through the Smirnoff US Facebook page, which serves as a platform for a range of the brand's programs. The new compilation includes tracks by "DJ sensations Kid Capri & Just Blaze, from Smirnoff's Master of the Mix program and never heard before versions of new tracks including 'Give Me All Your Luvin' and 'Masterpiece," says the brand.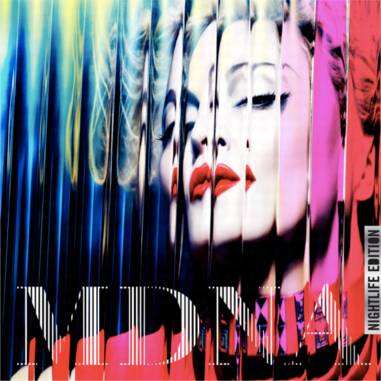 Photo: Madonna's MDNA album cover
The album of remixes will be available to purchase via the FB page, so Smirnoff fans will be the first to hear the remixes. To get the album, users are invited to like the page—then they will get an opportunity to place an order for the new music compilation from Madonna for $3.50 (the distribution starts on March 26). This offer is available for the brand's fans around the globe. In early February, Smirnoff provided its fans with other Material Girl-related content—it posted the official video for 'Give Me All Your Luvin,' the diva's debut single from MDNA.
"It is a testament to Madonna's phenomenal performance and album production that these tracks can be remixed whilst retaining their musical integrity and broad appeal. It is exciting to be giving our fans the first chance to hear these incredible tracks in an expertly produced compilation album," says Simon Burch, Global Brand Director for The Smirnoff Co.