Starbucks is determined to compete with energy drinks market leaders such as Red Bull and burn. The company takes on the energy beverage giants with the global release of Starbucks Refreshers, all-natural revitalizing sparkling product based on real fruit juice and green coffee extract. The delicious, low calorie and energetic offering has been tested in select markets in the U.S. starting 2010 in a glass and later in a can, and now Starbucks is ready to introduce it on the national level, according to the press release.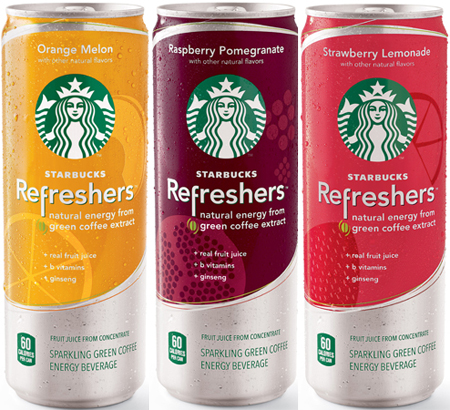 Photo: Starbucks Refreshers line
"The energy category is the fastest growing category within measured CPG channels at $8 billion, up 16 percent over the last year. The launch of Starbucks Refreshers beverages continues to support our growth strategy to innovate with new products, enter new categories, and expand into new channels of distribution," commented Annie Young-Scrivner, global chief marketing officer for Starbucks and president, Tazo Tea.
The beverage which is based on caffeine and fruit juice delivers ultimate taste and doesn't smell or taste like coffee at all despite the fact that it contains green coffee extract from 100% arabica. The secret is that the coffee beans used for making these RTD drinks are unroasted which provides this mild and fresh flavor. The new offerings are available in three flavours Raspberry Pomegranate, Strawberry Lemonade and Orange Melon—and to make it even more convenient to enjoy the drink, Starbucks produced it in on-the-go format, 12 fl. oz. tall and slim cans at 60 calories per each.
"The launch of new products such as Starbucks VIA Ready Brew, Starbucks Blonde Roast Coffees and customizable Frappuccino are great examples of how we continue to leverage our coffee expertise. If anyone was going to innovate in coffee while delivering on an untapped energy and refreshment need state, it would be Starbucks," added Annie Young-Scrivner.
So far, the company doesn't provide any details on the launch of the new line on the global market, but it says that by the end of April, U.S. consumers "will find ready-to-drink Starbucks Refreshers beverages at more than 160,000 points of distribution."