Subaru, which saved people in Australia from boredom at work in 2010 by sending a squad of rescuers to the offices, is now doing quite the same in the USA, but with an open air twist. The auto brand has launched the 'Work Play Love' Tour to encourage American employees to get out of their stuffy office environment, take off white collars and attend one of over 50 fresh air therapy stops, made at various U.S. companies, which support the movement. The new initiative, which helps employees achieve life-work balance, will be promoting the all-new 2012 Subaru Impreza, designed to deliver more fun, adventures and air into people's life.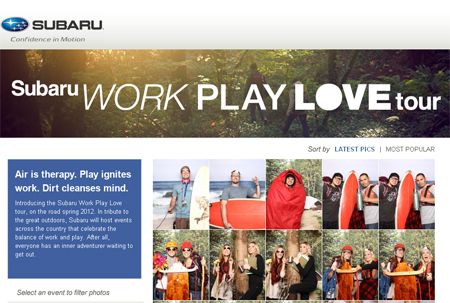 Photo: A snapshot from the www.play.subaru.com website
"Subaru is visiting companies that are recognized for having a positive work-life balance. Our 'Work Play Love' tour is a recognition of those efforts and an invitation to come out and play," shared Todd Lawrence, promotions and sponsorships manager, Subaru of America. "Everyone has an inner adventurer waiting to get out and the all-new 2012 Impreza is the car to get you there. The 2012 Impreza is the most fuel efficient all wheel drive car in the country. Its fuel economy, durability and versatility make it the perfect vehicle for the active, adventurer in all of us."
For the new campaign, developed by Portland-based brand communications agency NORTH, Subaru is collaborating with a range of lifestyle partners including KEEN Footwear, Yakima and Trek, which will help the brand offer more entertainment to employees during the stops—the entertainment program will include outdoor games, a DIY trail mix station, product demonstrations, giveaways to name a few. The tour attendees will be also able to make hilarious photos at the Workday Warrior Photo Booth using fake mud, snow and other props (the stills will get available on the web immediately and guests will be able to share them with their friends and co-workers).
Attendants to the outdoor parties will be able to associate themselves with one of the three Impreza lifestyle personas and then choose Impreza products and features, which fits them best. For instance, fuel efficiency and moonroof will be key features for The Balance Seeker, who prefers to spend his or her day off in the country, love farmer markets and never live to work; The Urbaneer, who is curious and up to new adventures, will like the zippy handling and built-in Bluetooth; and The Fresh Air Follower, who uses any opportunity to get closer to nature, will adore all-wheel drive and major cargo space. According to the press release, "each Work Play Love tour stop will feature an Impreza outfitted according to those lifestyle personas."