Apple, Google and Amazon are the leaders of the World's Most Admired Companies 2012 chart, unveiled as result of the new survey conducted by the Fortune trade publication and the Hay Group consultancy—a total of 698 companies from 32 countries were included. The companies, which top most of lists of the most successful businesses, are followed by Coca-Cola, IBM, FedEx, Berkshire Hathaway, Starbucks, Procter & Gamble and Southwest Airlines correspondingly. The first two leaders hold their positions for several consecutive years—for instance, Apple heads the chart for the fifth year in a row, Google was the second most admired company in 2010 and 2011 as well (see the last year's list here).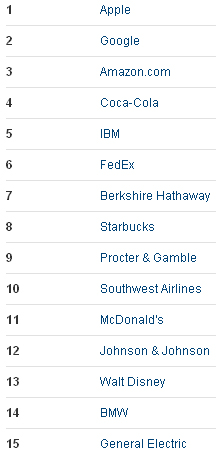 Photo: Top 10 World's Most Admired Companies 2012, www.money.cnn.com
The surveym which was led among 3,855 executives, directors, and securities analysts, also revealed the leaders by industries—McDonald's, which landed in the 11th position in teh overall chart, became the leader in the Food services category, Nestlé topped the Consumer food products chart, Ralph Lauren became the leading Apparel company, Visa go on the top in the Consumer credit card and related services niche, and Volkswagen was determined the best in Motor vehicles, to name but a few. For more information on the selection process, follow the link to read the 'How we pick them' post.
The team behind the study explained why these companies became the leaders of this year's chart, remembering their most successful moves in 2011. As to Apple (8.42 points), CNN Money writes that "The company's annual revenues climbed to $108 billion, led by an 81% increase in iPhone sales… and a 334% spike in iPad sales, due in no small part to the revamped iPad 2. Increased sales across the board explain why shares soared 75% during the company's fiscal year to $495."
Commenting on Google's success (7.74), the source writes, "Eric Schmidt passed the CEO reins onto co-founder Larry Page in April, who not long after essentially streamlined the company into six major product areas, including search, social, mobile, and ads. Google made several acquisitions, spending $12.5 billion for Motorola Mobility and $125 million for Zagat, among others. Consumer-facing services like Gmail, YouTube, and Google Reader saw significant updates, and the company finally unveiled its social network, Google+."
In the Amazon.com (7.45) profile on the chart, CNN writes that "Despite the fact that 2011 revenues climbed to $48 billion, net income dropped 55% to $631 million. The company leveled much of its capital at expansion efforts, including plans to open 17 new fulfillment centers. Later in the year, Amazon unleashed the Kindle Fire, a tablet which by one estimate may have sold as many as 6 million units last holiday season."
As it turns out, 20 of companies from teh survey landed on the top in their category for multiple years (see the infographics below).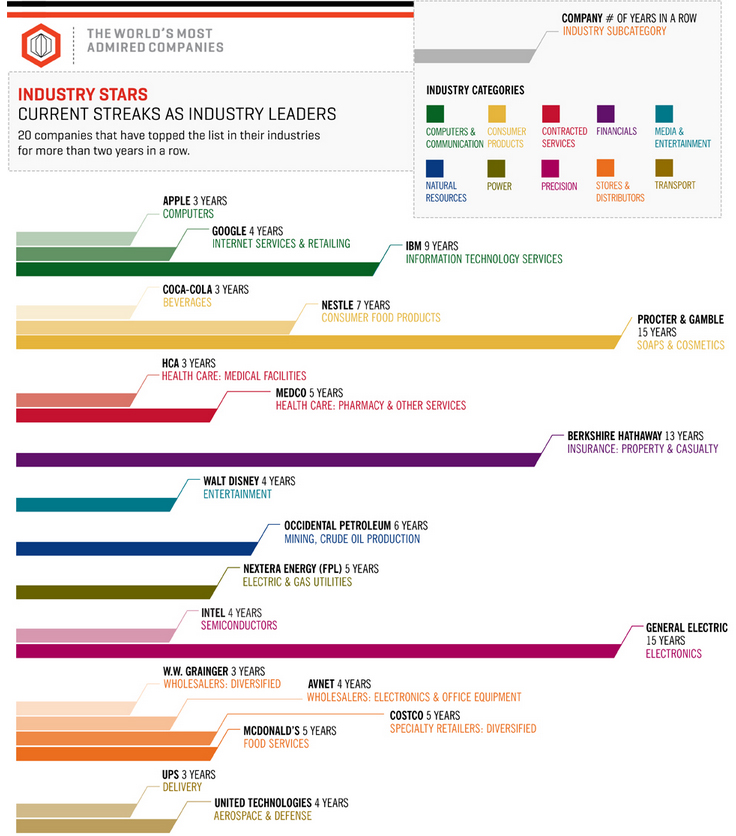 Photo: Most admired industry stars on the World's Most Admired Companies 2012 list (click to enlarge), www.money.cnn.com