What can be better than a can of cool Tuborg beer in summer? A can of Tuborg, which is designed by you. Just like many brands today, Tuborg has turned to its Facebook community to develop a new design for a limited edition can, which will be used in the brand's summer promotions as part of its festival sponsorship.
Chris Thornhill, Tuborg brand manager noted, "Tuborg's marketing campaigns really resonate with our drinkers and we've seen a 60% growth in the brand over the last two years— that's a staggering 5.3m pints extra! By sponsoring the UK's leading festivals from Bestival to Latitude to Glastonbury, consumers are turning to Tuborg as a brand that reflects their personality. It's creative and non-conformist, which is something other lagers strive to be but don't quite get there. Investing in digital is key as it's the space where our consumers spend a large percentage of their time. We have created something which will increase their dwell time on the Facebook page and deepen their affinity with the brand."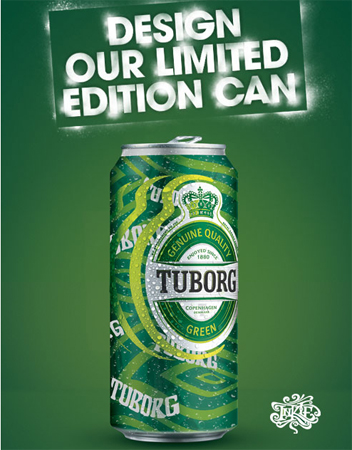 Photo: A snapshot of the contest page with Inkie's design on www.facebook.com/TuborgUK
Creative fans from the UK are invited to upload their designs to www.facebook.com/TuborgUK page for a chance to get selected by the top UK graffiti artist, Inkie, who was commissioned by the brand to judge the entries and choose the winner from top 10 works. The user, who created the best entry either by downloading a ready-made template or by developing the design online using special tools, will receive a set of summer festival tickets and get his or her name written into the rich creative history of Tuborg. The submission period is running through March 22—the winner will be announced on March 23.
"There's bucketloads of creativity in the UK and Tuborg has given people a way of showing theirs. Imagine seeing the can you designed in the hands of hundreds of thousands of festival goers? No amount of money could pay for that! It's a fantastic opportunity for a young designer to get the opportunity to shine and I'm really looking forward to judging all the finalists," shared Inkie. He was also asked to create a new street-art inspired green and lime 'eyes' design for summer Tuborg cans (watch the video of the process here).