The article is written by Ted Mininni, the President of Design Force, Inc., USA
I wrote and published an article once with the title: "Advertising is Dead. Long Live Packaging". Since POPSOP brought this up in my recent interview with them, I thought it worth discussing. While the title of the article is a bit of an exaggeration for the sake of grabbing attention, there's more than a kernel of truth to it. With increasingly fragmented audiences and more consumers tuning out conventional advertising than ever, the whole proposition needs rethinking.
Verbal brand communication tends to be the primary focus of marketers. Consumer product companies are fond of creating clever taglines. Producing advertising for print and digital media. Developing marketing content for their web sites and social media to inform and engage. And, of course, aligning brand communication on packaging. But who asks this question: what's most memorable to consumers?
People are visual. Strong visual design assets have a way of sticking more than verbal communication. That's why packaging has the power to sell consumers right at the retail shelf. Advertising doesn't do that nearly as effectively. It drives consumers into retail stores and it cues them to a degree but purchase decisions are made at the shelf. The visual impact of great package design has the power to sell product and build brands like nothing else. Think about it this way: have you ever gone into a store to purchase a particular brand because of advertising impressions? But once there, you purchased another due to the impact the packaging made on you? I think we all have.
Visual design elements can be leveraged to develop a unique communication hierarchy in packaging. Think of how brands can be communicated at a glance by the use of signature color, a distinctive brand identity, unique graphics, typography and imagery, including an icon. Or a combination of several or all of these visual elements can come together to create visual impact.
Pic. Monster Energy Drinks packs
Consider some category leading brands. In a high-powered category like energy beverages, Monster Energy Drinks continue to dominate. But what motivates purchase? What sells the brand: its tagline, advertising, extreme sports content on its web site or its packaging? The company's catchy tagline: "Unleash the Beast"? Or signature black packaging with its three long "claw marks" in neon green in the shape of the letter "M" and its distinctive brand identity "Monster" in a Goth font? In an explosive category like energy drinks, Monster continues to dominate. When the brand name "Monster" is uttered, what comes to mind? The powerful visual impact presented on its packaging. The letter "M" formed by claw marks? Pure genius.
Tropicana orange juice is a category leader. When consumers are confronted with a multitude of choices on the retail shelf, are they thinking "Never made from concentrate"? No. They're keying in on the straw-plugged orange on the packaging. This icon has so much heritage that consumers complained when a package refresh eliminated this visual design element. Sales plummeted. It took parent company Pepsico a scant couple of months to reinstate the original package design. This proves that visual design elements on packaging can make (and maintain category leaders) or break brands.
In a cross-over category like die cast toy cars that kids and adults enthusiastically enjoy collecting, Mattel's heritage Hot Wheels brand continues to create excitement. Far from passé since its 1968 debut, contemporary games and videos deliver all of the excitement of racing on the brand web site. The debut of Team Hot Wheels racing at the fabled Indy 500 with in-depth looks at the team creates a lot of positive energy around the brand. But in the end, what makes Hot Wheels stand out from its competitors? Its signature brand identity: a flame in vibrant red, orange and yellow with white and yellow Hot Wheels lettering signifying movement on bold blue color of the packaging is a powerful identifier for the brand at retail. This actually helps consumers cue in on the logo by seeing the deep blue packaging first. Even if we were to conduct a test and jumble the brand name, few boys and grown men wouldn't be able to identify the Mattel Hot Wheels brand. Yet another testament to the power of visual design.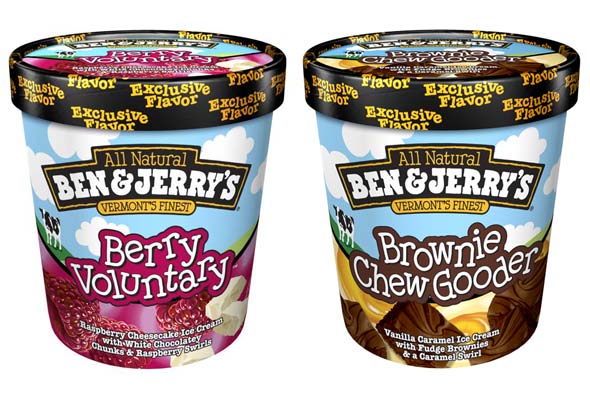 Pic. Ben and Jerry's ice cream packs
When consumers are confronted by a sea of candy bars and they want to purchase quality chocolate, what jumps out at them more than Cadbury's signature royal purple packaging? The color is so integral to the brand that Cadbury once tried to trademark it. The Cadbury image has been reinforced by its brand marketing, but the packaging conveys the brand and its assets at a glance. Similarly, how do consumers choose from among premium ice creams? Nothing pops out more than Ben & Jerry's pints with their homey art work and brand identity. All of those bucolic landscapes and cows: can there be any doubt this is Ben & Jerry's?
Remove the logo from any of the packaging on these brands leaving all other visual design elements intact and most consumers would be able to identify them. Not only that: they would be able to assign specific assets to the brand. No matter where people live; no matter the languages they speak, visuals communicate clear messages everyone can understand. How important is that to global and would-be global brands?
Should brand managers continue to focus on verbal brand communication, including advertising? Certainly. But they should assess what's working and what isn't and budget wisely. Knowing how visual consumers are, they should consider reallocating additional resources to packaging. Remember that packaging is one of the most tangible representations of brands. Fully developing the potential of visual design elements can lift brands by owning consumer mindshare and creating category leaders. So why wouldn't marketers focus more of their resources on developing visual brand communication? On package design?
About the Author
Ted Mininni is President of Design Force, Inc., a leading package and licensing program design consultancy to the consumer product and entertainment industries. He can be reached at 856-810-2277.