The technology is now getting integrated into our lives at a tremendous speed, so to be fully ready to what this can bring to us and not get lost among all these new services and gadgets, we should closely monitor new developments and be ready for upcoming innovations. The best place to learn about what's to arrive is a range of themed festivals, conferences and shows, which are hosted around the globe, revealing finished products and concepts which will—like this or not—change the way we consume content, make purchases, interact with others and express ourselves. This review, based on JWT's latest report '15 Ways Mobile Will Change Our Lives,' is based on the insights from the GSMA Mobile World Congress in Barcelona (February 27-March 1), and unveils emerging trends in mobile tech industry, which has got embedded in just every sphere of our life.
We have shortened the number of these trends to major four, and all of them are unveiled beneath along with illustrations (since most of these tendencies are just gaining momentum, not all of the examples are realized products, but they are sure to come into life in the nearest future).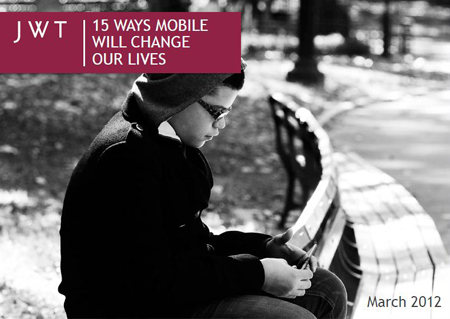 Photo: '15 Ways Mobile Will Change Our Lives, www.jwtintelligence.com
Everything Is 'Smart'. People want to live in the world where things around them think, and manufacturers respond to this demand by embedding WiFi, SIM cards and other technologies into tech-items. And the number of such devices is extending far beyond computers and mobile devices. Our automobiles are getting equipped with services which allow the driver to communicate with the auto and environment while being behind the wheel (like BMW ConnectedDrive), check the driver's health (Ford is now developing the SYNC technology), or even talk with your vehicle (Toyota Friend). Smart appliances (like the fridge unveiled by LG earlier this year, which is expected to become a consumer's food manager) are expected to dominate on the market as well.
The Humanization of Tech. This trend, also highlighted by JWT, can be linked to the illustrations unveiled above. Devices (including mobile ones) will be reacting to the words we say, our gestures or any other body signs in a blink of an eye, and this is already being realized now through a range of technologies and devices, including Kinect. New devices are expected to understand us just like our friends or family, and will now require us to push the buttons or tap the screen.
Mobile Device as Lifesaver. In some way, this tendency is also related to the first tendency, but has a more important impact on our lives—being healthy is prior to be entertained and get domestic comfort. Smartphones come as a bridge between you and healthcare or lifesaving services, and are predicted to provide through apps with tips and advice on a range of problems connected with our physical and emotional life. Gadgets help us keep track of our sport archievements, monitoring them via sensors in apparel and accessories—and then send to to the mobile device or put the data on their own display (like in Nike+ products or adidas' miCoach).
Owners of mobile devices also use web to overcome natural disasters and survive under critical conditions with the help of dedicated online-hubs, which provide relevant information and tools—earlier this year, Dell and Red Cross launched the Digital Operations Center, and last year, Google unveiled its crisis preparedness website. Everything a smartphone or laptop user needs to do to get saved, is to obtain an access to the world wide web, and this issue underlies the next trend.
Widening Access and Synchronization. All these mobile technologies mean nothing if they are not accessible to wider masses. That's why one of the top priorities now is to make affordable mobile devices—both phones and tablets,—and provide web access to more people. Understanding how important online life is to modern consumers, non-tech brands are also fostering digital integration—like Coca-Cola contributed to this movement with its recent initiative for Brazilian youth, providing younger consumers with an access to free megabytes for internet surfing. Access means not only availability of a mobile device or internet connection, but also an ability to get your content wherever and whenever you want, and this becomes one of the top consumer's demands.
Responding to this, tech-companies including Google, Microsoft, Apple and more are offering their consumers more ways to view, watch, read and listen to content on various platforms—both TV, PC and mobile—and when they want it. For instance, in early March Google unveiled its Google Play, which allows to access the content you've bought from any connected computer or mobile device, and reportedly is going to launch the Google Drive free storage service in April.
Smartphones, which are predicted to rule the mobile device world, will also become the key interface for controlling a wide range of things like household appliances, will be interacting with screens and automatically adjust car settings to the consumer's preferences. These devices also enable us to make purchases or oder services using NFC, store and share information, scan QR-codes and AR to provide enhanced consumer experiences, as well as snap-and-learn about any object around us.
Hyper-Personalization. Frightening or not? Widening access implies that mobile will get deeper and deeper into our lives, making us feeling frustrated when we don't have a smartphone in out hand and can enjoy what it usually gives to us—information, help, entertainment, the feeling of unity with others. Mobile devices usage, along with improving our lives, lead to a range of problems ranging from physiological disturbances (like no mobile phobia) and security issues, since personal data, mobile browsing and mobile payments is available online and can be easily accessed by third parties, which is not always good.
Today, not only the users can find and track everything—they can be found and tracked as well, and now social media websites (which are often 'blamed' for being 'providers' of users' personal info to public) are working hard to improve the system of personal data storage and help users open their personal information (such as check-ins or bio) only to those whom they want to share it with through their mobile device. Still, it's easier said than done. The next issue which can be bothering as well is improvements of personalized search and deals offers—websites and search engines analyze users preferences and previous enquires (and even emails) to offer links and products based on the data.
On the one hand, some people like to get offers tailored to their needs, but on the other hand, it's not that great to get monitored all the time, even with benevolent intentions. Here, the most scaring thing is not that websites know a lot about us, but that others get our full profile as well, and can do with it whatever they want. In the nearest time, web giants have to find the solution to this problem unless they want see people deleting their personal data from online services. Mobile technologies provide web consumers with a great opportunities to share their life experiences with others, and helps brands offer consumer-tailored deals to them on-the-go (though geo-location ads system, for instance), but privacy should always be on the top.