Burger King has announced a big revamp of its menu, adding ten new offerings simultaneously first in its 58-year history. The menu has changed to present healthier freshly-prepared meals including fresh salads, fruit smoothies and snack wraps, crispy chicken strips and frappés.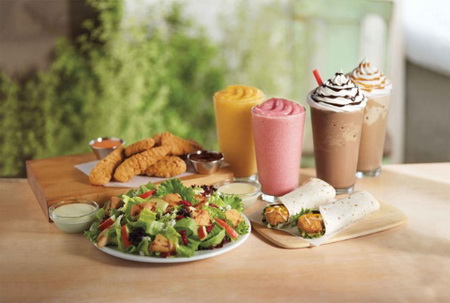 Photo: Burger King's new offerings
The most popular BK's offering, the Whopper with cheese now comes with a thicker slice of cheese instead of two thin ones and the lettuce and tomatoes on it will be hand-sliced on-site. It also is sold in a cardboard box again.
"We spent the last year analyzing every aspect of our business to better understand what our guests expect from the Burger King dining experience," said Steve Wiborg, president, North America, Burger King Corp. "We found that consumers wanted a broader range of menu options to complement our signature fire-grilled burgers. This expanded menu gives consumers more choices and more reasons to visit Burger King restaurants."
To promote its new premium quality menu, BK has invited celebrities including David Beckham, Mary J. Blige, Salma Hayek, Jay Leno, Steven Tyler and Sofia Vergara—to reach all of fast food chain's targets. The stars feature in fun videos each representing a particular product.
The videos are only a part of the all-integrated national campaign that that encompasses social media and digital apps as well as offers samplings and events nationwide. The samplings will be available on the BK trucks starting April 18.
Additionally, Burger King adds new easy-to-navigate digital menu boards in its restaurants, as well as updates its employee uniforms and products packaging. The aim of all these improvements is to "give guests more reasons to come back," according to Wilborg.
Burger King already made some changes in its menu and design last year to appeal more to female consumers. Burger King's rival, McDonald's, has also started redesigning its restaurants aiming to make a total revamp by the end of 2012.