The article is written by Jamey Wagner, Creative Director and Steve Leder, Associate Creative Director at Interbrand, USA
Reflecting busy consumers' demands for convenience in today's fast-paced world, some food brands are offering the nutritional benefits of solids in liquid form. Take, for instance, V8, the original drinkable food, applesauce in pouches with pour spouts, Fruit2Day's "new way to eat fruit," and yogurt's evolution from Go-Gurt to a full-blown frenzy of drinkable options.
What trends are evident in the "on-the-go" drinkable food category? Will consumers accept these products as a satisfying alternative to a "real" snack or meal? How can package design create a compelling story to motivate consumers to purchase?
Beyond Go-Gurt
Yogurt brands have been a catalyst for the drinkable foods category. As early as 2004, Danone targeted the teen market with "Fruix-to-drink", a mixed-fruit yogurt brand packaged in a bottle. In 2006, the drinkable yogurt market posted an 18% growth rate and more than $1 billion in global value, fueled by single-serving products and the probiotics health trend. Many drinkable yogurt marketers focused their messaging on the product's convenience and the benefit of yogurt's active cultures on the intestinal tract and immune system.
Today, the dairy category continues to lead the drinkable food market. Among popular brands is Lifeway Food's extensive Kefir line, which includes Lowfat Kefir, Organic Kefir, the ProBugs line of Organic Whole Milk Kefir for Kids; Green Kefir with Phytoboost, BioKefir™, and Frozen Kefir. Known for its innovative products, Lifeway recently celebrated its 25th anniversary by introducing a birthday cake-flavored kefir in special packaging.

Photo: Lifeway's special-edition Kefir
How far can this category stretch?
Drinkable food manufacturers strive to pack as much added value as possible into a small package: Load the product with vitamins and nutrients (for example, soy drinks with the added benefit of fruit) to create a meal-type situation and help on-the-go consumers achieve a more balanced diet.
The Mamma Chia® line of Organic Vitality Beverages is one novel entrant. The first‐to‐market organic chia seed beverage, Mamma Chia pairs whole organic chia seeds with organic fruit juices and a touch of organic agave nectar. The drink offers a complete nutritional profile of omega-3, balanced dietary fiber, complete protein, antioxidants and minerals.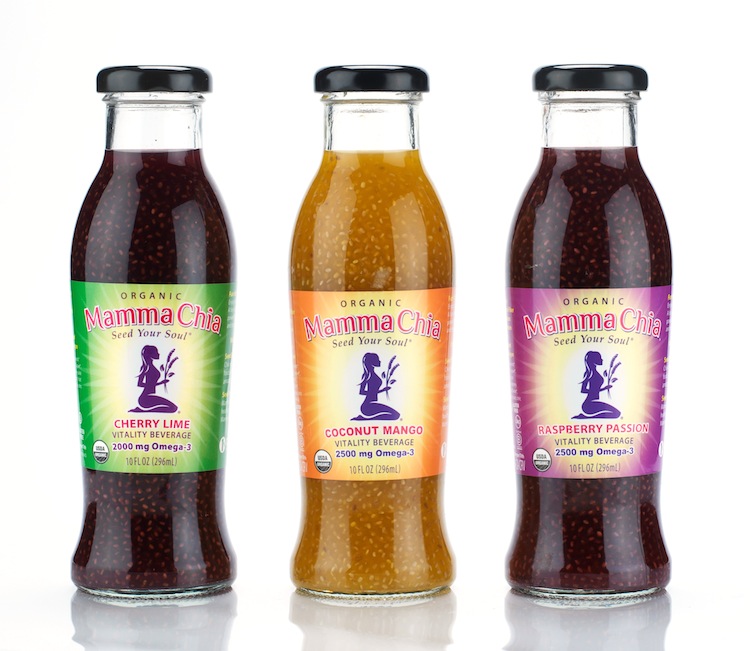 Photo: Mamma Chia range
How far can the drinkable food category stretch? Some major food and beverage companies are betting that it will stretch a long, long way. PepsiCo recently acquired a stake in a Russian dairy and juice company, Wim-Bill-Dann Foods, anticipating that busy consumers will want satisfying and nutritious beverages that can double as snacks. A PepsiCo executive described the emerging market as an opportunity to "'snackify' beverages and 'drinkify' snacks."
Drinkable foods in Asian markets often feature savory flavors rather than sweet. In Korea, Green Juice from Pulmuone boosts consumers' vegetable intake. Sunity (生和堂) drinkable Guilinggao is a Chinese traditional health food in liquid form. Heinz offers pureed baby food in a pouch, and there are numerous soy-based drink products with added collagen to promote healthy skin.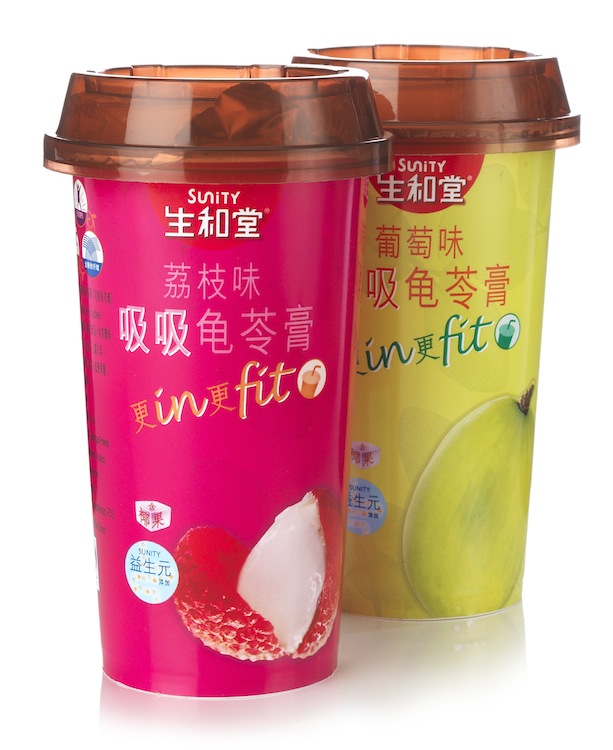 Photo: Sunity, a drinkable Chinese food
It appears that the potential of drinkable foods is limited only by the imagination. Dr. Nathan Myhrvold's Modernist Cuisine cookbook, a 2,438-page tome documenting the future of food, includes a drinkable bagel consisting of broth made from an "everything" bagel, with bits of dill, lox, chives and other breakfast delights.
(Drinkable) food for thought
Drinkable food is not expected to replace physical meals – at least not in the near future. Leveraging the emotional connection that consumers have with food – the way it smells, feels and tastes – is the key to developing this category. Large-scale adoption beyond the expected offerings of drinkable dairy and fruit concoctions will require package designers to find innovative ways to connect with consumers logically via a brand's nutritional benefits and emotionally via appetite appeal while delivering the subconscious tactile expectations consumers have about food. Innovation is great but if it doesn't relate to a brand's story and deliver on its promise it becomes a missed opportunity. Here are some considerations for designers working in this new category:
Do your homework. Research your target consumers and uncover the motivations behind their quest for convenience. Having empathy will uncover the "why" behind the behavior: Is it nutrition, appetite appeal, simplicity for a busy routine, or a societal shift? Audit adjacent categories and other food brands that focus on the convenience trend.
Develop a meaningful point of view that supports your collected data. What is the Big Idea? Consumers can be skeptical when they see nutritional drinks on shelf: "I know it's good for me," they reason, "but it can't taste very good." This skepticism creates challenges for package designers, who need to communicate both a product's nutritional benefits and its appetite appeal – the brand's "reason to believe" – in a compelling way that motivates consumers to purchase.
Celebrate the limitations and constraints of drinkable foods' small, on-the-go containers. Their size makes on-pack real estate more valuable and, by extension, the design process more challenging but there are ways to use it to your advantage.
Consider structural innovations during the design process for drinkable food packaging. For example, adding a pour spout to a single-serve cup of applesauce may be a more efficient way to eat it than with a fork or spoon; such a design offers the double bonus of convenience and less waste. Similarly, drink manufacturer Britvic has found a way to use the technology in aerosol spray cans – a common container for deodorants and hairsprays – to produce an aerosol-powered bottle that fires a blast of foamy orange soda, called Turbo Tango, into your mouth. The product may herald a new delivery medium for drinkable foods.
Liquid lunch may never replace the real thing, no matter how mobile our society becomes.  However, package structures and designs that accommodate consumers' increasing desire for products that combine nutrition, flavor, fun, and portability are definitely food for thought.
About the Authors

Jamey Wagner is Creative Director of Interbrand Cincinnati. He serves a team leader for the Design department, partnering with Strategy, Account and Implementation to ensure that visual strategies meeting marketing objectives.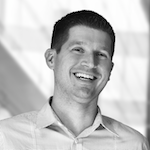 Steve Leder is Associate Creative Director for Interbrand's Cincinnati office. During his 10+ years in the industry, Steve has partnered with numerous Fortune 500 companies in the areas of brand strategy, identity, design and implementation. In addition to packaging, Steve's background includes environmental and print design