L'Oréal USA is proud to announce the L'Oréal Women in Digital Program, a new initiative that will celebrate and nurture women working in technical and digital roles. L'Oréal Women in Digital will promote the design of new and innovative technologies that will address the needs of the beauty industry with technology created by women and for women.
«Our mission is to inspire and empower women to drive the advancement of digital technology to meet the needs of the female consumer,» stated Rachel Weiss, Vice President, Digital Strategy, L'Oréal USA and Chair of L'Oréal Women in Digital. «There is a tremendous opportunity for women to influence and create the user experience in the digital space, and no company can help foster and grow this initiative like L'Oréal.»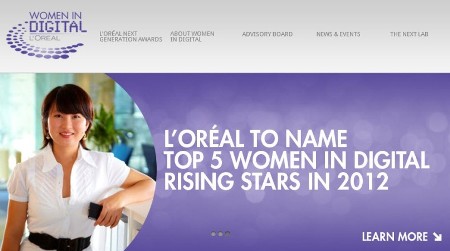 Photo: A snapshot from the www.lorealwomenindigital.com website
As part of this initiative, L'Oreal will be awarding 5 'NEXT Generation Awards' to the top rising female entrepreneurs managing and leading technology-driven companies.
Final nominees and the winners will be selected from a scorecard judged by a panel of L'Oréal USA executives, Venture Capital Partners and the L'Oréal Women in Digital Board of Advisors. Honorees will be announced and celebrated at a private invitation-only event attended by digital industry leaders, investors, L'Oréal top executives and the press. Winners will also receive airfare, two nights' accommodations and an itinerary introducing them to investors, L'Oréal executives and strategic partners.
The entry period is open now through May 30 on www.lorealwomenindigital.com and is in partnership with the L'Oréal NEXT FUND. The NEXT fund will also be open to ongoing applications for grants for women led-technology companies to experiment with L'Oreal throughout the year.
The NEXT Fund stands for New Experimental Testing Fund. The NEXT Fund was established in 2011 as a separate corporate media fund that invests in the latest digital technologies, digital pilot programs, incubation programs and large-scale corporate sponsorships. L'Oréal USA will be allocating a percentage of the fund to primarily test and support female owned and co-owned companies. Cash awards and testing opportunities can be submitted on an on-going basis at www.lorealwomenindigital.com. Potential experiments submitted through the site will be evaluated on a monthly basis.
As part of the ongoing commitment to supporting women in digital career paths at L'Oréal USA, L'Oréal will be hosting internal meetings, events, speakers and workshops for all L'Oréall USA employees. The goal of these gatherings will be to provide internal support, inspiration and mentoring for all women at L'Oreal already working or interested in working in digital and IT functions.