To mark the Salone del Mobile 2012, MINI has unveiled the installation Colour One for MINI by famous Dutch design duo Scholten & Baijings. The conceptual installation explores the design of a MINI One to the smallest details in order to view the automotive design from a new point.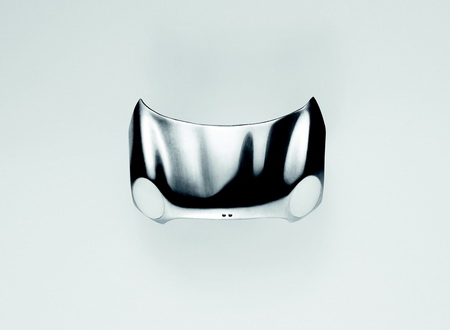 Photo: Motorhood scale, a part of the Colour One installation
To create their installation, Stefan Scholten and Carole Baijings decided to deconstruct the MINI One, MINI's base model. Designers disclosed all layers of the model step by step analysing the car components and "extracting the essence of each component."
In the process of dismantling the car, the designers found out so-called 'Art Parts' that allowed a new fresh view of car design. For example, there are transparent tires made of cast resin, which were produced in cooperation with industrial designer and polyester specialist Vincent de Rijk. The taken out doors are displayed separately from the car with three-dimensional golden textures or a matt porcelain paint finish developed in collaboration with MINI Design.
Scholten & Baijings added their own aesthetics to the car design by putting bags into the frame and a sun visor. There are also concept landscape views displayed in the exhibited symbolizing the past, present or future depending on whether you look to the back, the side or the front window. To celebrate MINI One's racing heritage, Colour One for MINI by Scholten & Baijings is staged in a stylised racing paddock.
"The BMW Group has for many years collaborated with creative people from a wide and varying range of fields," says Anders Warming, Head of MINI Design. "In Scholten & Baijings we have managed to enlist a design duo who are known worldwide for their eclectic creations and who work at the interface between design and art. Their completely untrammelled view of our design, free of any conventions, is an immense source of inspiration for the entire MINI design team."
Colour One for MINI by Scholten & Baijings runs until April 28 as part of the INTERNI Legacy exhibition at the University of Milan.
Recently, the automaker has announced its MINI United 2012 festival.