As part of its Future Friendly conservation education initiative, P&G has launched the new 'Take a Load Off' campaign to celebrate Earth Day 2012 and suggest  Americans to switch to cold water laundry washing for two reasons— saving energy and cutting down costs.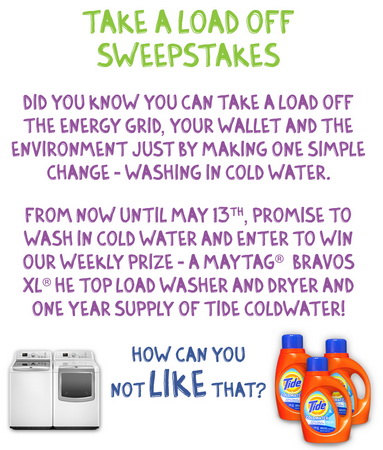 Photo: Sweepstakes on Facebook, from P&G's Facebook page
"This Earth Day, P&G is inviting consumers to take a load off of the energy grid and their wallets by making one simple change –washing laundry in cold water," said Len Sauers, vice president of sustainability for P&G. "This campaign is our effort to work hand-in-hand with consumers to make continued progress toward our goal to convert 70% of all wash loads worldwide to cold by 2020."
The campaign aims to reach P&G's 10-years goal to convert 70 percent of total washing machine loads to cold water by 2020. P&G is also promoting Tide laundry detergents created to allow deep cleaning in cold temperatures.
In addition, P&G Future Friendly together with its partner, the Alliance to Save Energy, will provide data that illustrates the environmental benefits of cold water washing and uses Facebook to encourage people to wash in the cold water for the chance to win prizes from P&G each week. The prizes include high-efficiency washer and dryer sets and Tide Coldwater detergent.
P&G together with the actress and expectant mother Vanessa Lachey will also launch pop-up laundry lounges in Los Angeles on April 10 and New York City on April 18. The laundry will be created from a refurbished shipping container to literally invite people to 'take a load off'.
Other P&G's initiatives within the Future Friendly program included the recycling promotion and Find Your Footprint contest.